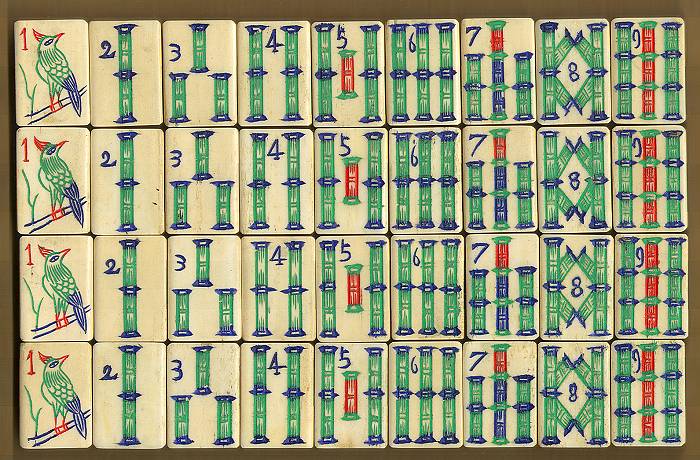 This lovely bone and bamboo mahjong set features a One Bam bird perching on a branch.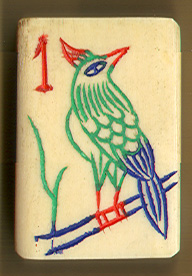 Attention was given to depicting the different feather patterns. You can clearly see the claws holding onto the branch, and a graceful twig echoing the curve of the bird. The other Bams are of the barbed variety and here  they are much more sturdy looking than others. Notice the number of strokes used to make each Bam. There is something that always delights on this type of 8 Bams.
The Craks have elaborate wans, and green Arabic numbers.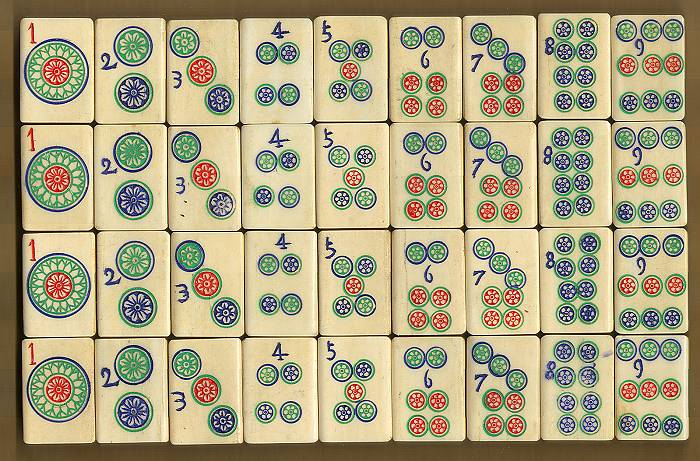 The One Dot is the flower within a flower, with the outer flower looking like a sunflower, and the other Dots continue the flower pattern. The 2 Dot has eight petals and the rest of the Dots have six. Note the Arabic 5 is carved with a unique style, and the One Dot has a red number and the others have blue ones. This same arrangement is seen on the One Bams. We have seen this on other sets too.
The Winds, Dragons and Flowers will be shown tomorrow.
We thank Mahjongmahjong for sharing these photos with us. To see more of their Mahjong Collection, click here