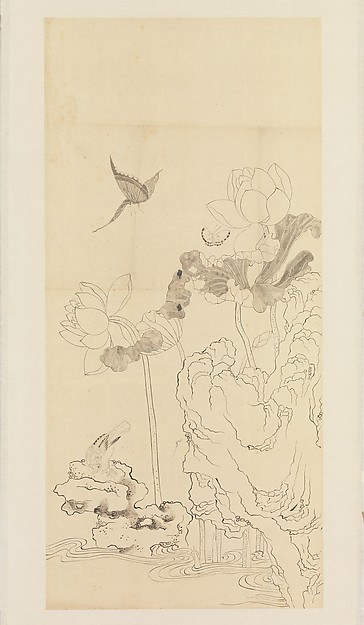 This lovely scroll combines many of the themes we have seen before: flowers, rocks and a butterfly. The flower here is a lotus, a flower much loved by the Chinese.
From Primaltrek:
Because the Buddha is often depicted as seated on a lotus, the lotus is considered a sacred Buddhist symbol (one of Eight Auspicious Symbols) representing purity and detachment from worldly cares.
The lotus signifies the seventh month of the lunar calendar.
The Chinese word for lotus is lianhua (莲花) or hehua (荷花).  Lian is also the pronunciation of the word for continuous (连) and he is also the pronunciation for the word harmony (和) so the lotus has the hidden meaning of "continuous harmony".
A lotus stem and lotus pod shown together symbolize marital harmony and sexual union.
Lotus seeds (lianzi 莲 籽) have the hidden meaning of "continuous birth of children" because the lian sounds like "continuous" (连) and the zi has the same pronunciation as the word for son or child (zi 子).
Examples of lotus charms can be seen at Open Work Charms, Pendant Charms, Lock Charms, Marriage Charms, and Boy Charms.
And I thought you'd enjoy this scene of children flying a kite shaped like a butterfly, found on Quan Dong's auction website: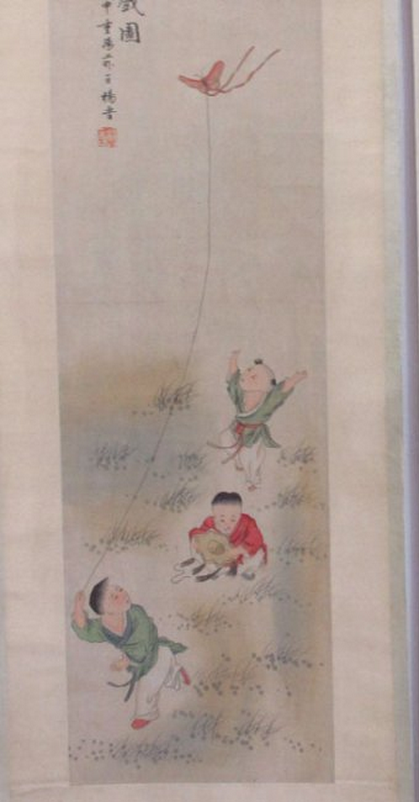 Certainly butterflies play an important role in Chinese life, in art and in play.
As we mentioned in the last post, butterflies are symbols of long life, joy and warmth (Primaltrek)
These delightful creatures often appear on mahjong tiles, but sometimes you have to look really carefully: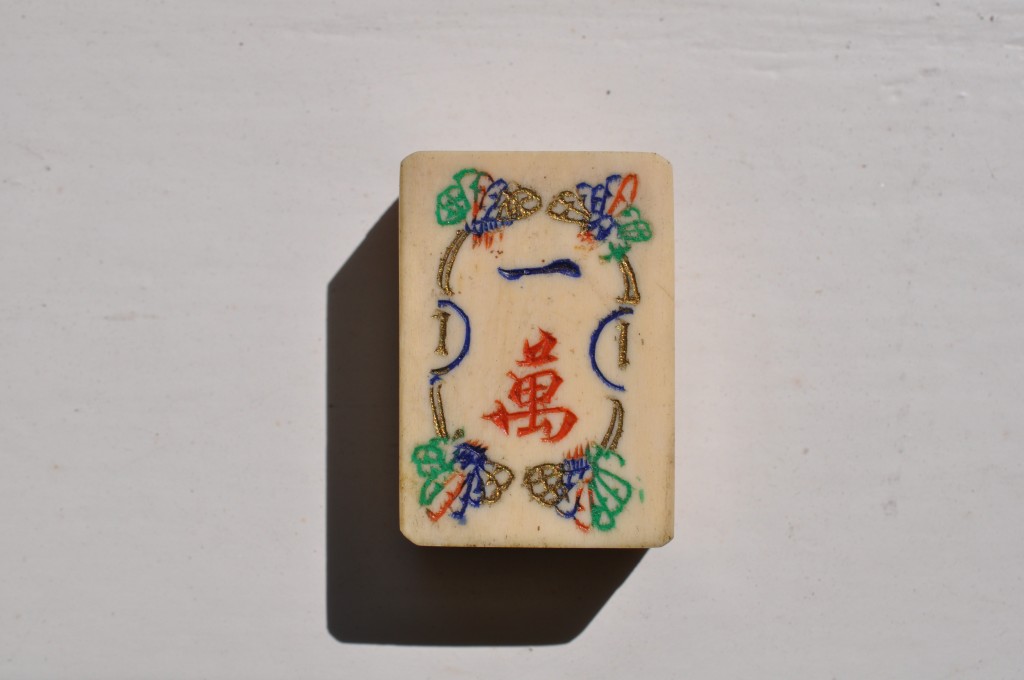 In the tile above, the butterflies form the frame around the Crak. Who says Craks have to be boring? I also love the way the number 1 is worked into the side of the "frame" instead of the top where it would interfere with the butterflies.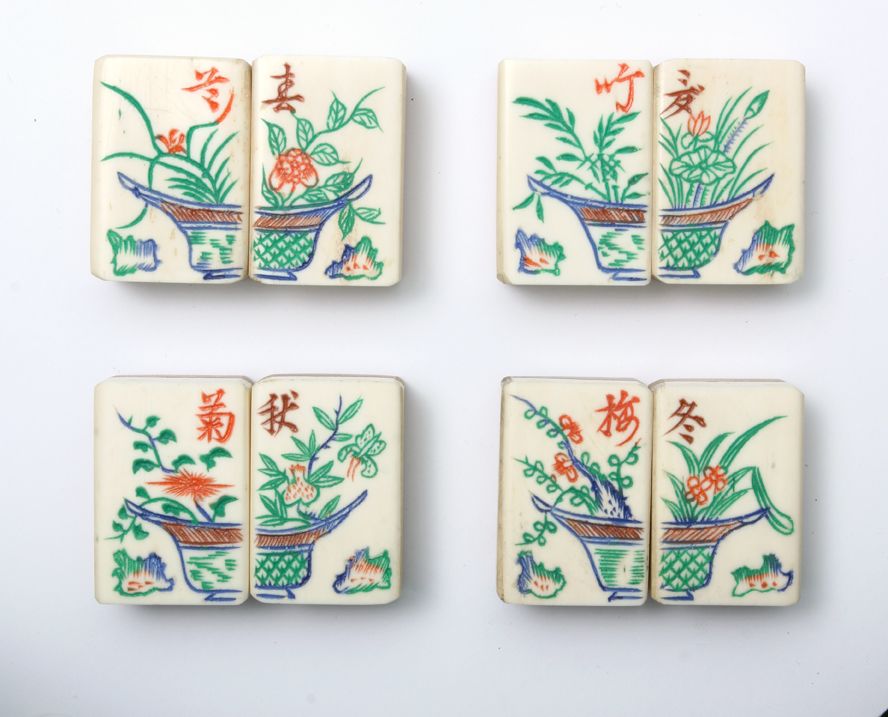 These tiles are examples of the split flower pots we often see, each half of the pot being a bit different from one another, with various plants in each. Because the Chinese often liked to have living creatures in their art, a butterfly can be seen on the bottom left set, the right tile. The butterfly is so well hidden it almost fades into the floral arrangement, doesn't it?
To learn more about Mahjong's art, you might like to consider this purchase:
The book I wrote with Ann Israel is being published by Tuttle. To see more about it:
www.mahjonggtheartof thegame.com
To order it click here:
http://www.barnesandnoble.com/w/mah-jongg-ann-israel/1118759459?ean=9784805313237
or here from Amazon
http://www.amazon.com/Mah-Jongg-Collectors-Guide-Tiles/dp/4805313234/ref=sr_1_7?ie=UTF8&qid=1414844427&sr=8-7&keywords=mah+jongg