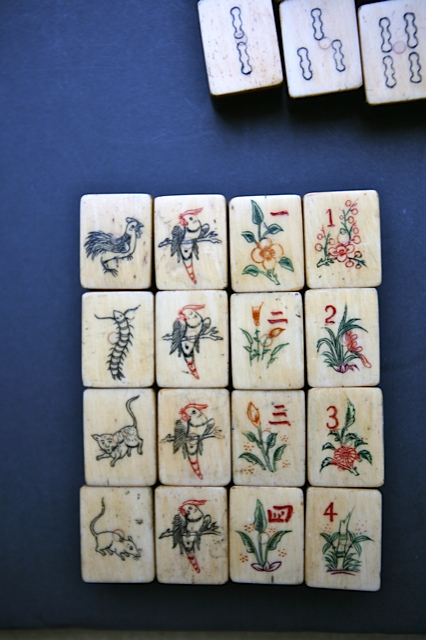 A reader sent these photos of an interesting set. It features the Singapore capture tiles, seen on the left: the rooster and the centipede, and the cat and the mouse. The pheasant looks very much like pheasants we see on some of the cb and bakelite and even tri-color tiles. The Flowers have Chinese numbers on one set and Arabic numbers on the other. The tiles look delicately carved and painted. The Bams in this photo seem to have an interior ghost circle, perhaps the same circle seen in the White Dragons below. Another reader pointed out that some Dots have that same ghost circle. Does anyone know why? Could this be symbolic or the result of some "manufacturing" process?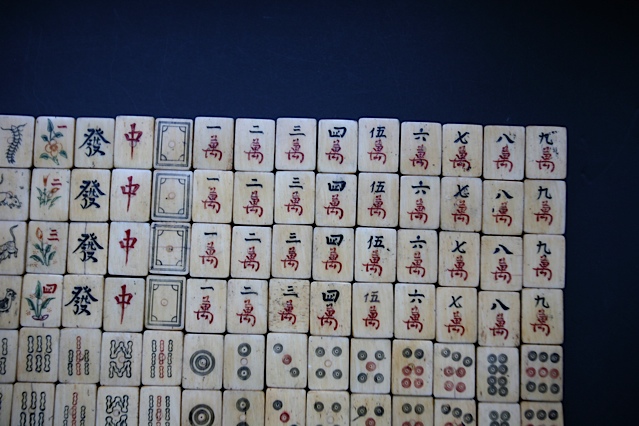 The Dots are the simple circles with actual dot interiors, the Craks are elaborate Wans, and Bams the rounded stalks. Both Green and Red Dragons have Chinese symbols, Fa for prosperity on the Green, and  Chung for Center on the Red. The White Dragon is a simple frame with a circle interior.
This set is very similar to one CHarli has on her website, in the Book, Wood Chapter, page 11. She feels this kind of set may be from Tibet, and of recent origin.