The Chinese consider bats to be good luck, and they are symbols of a long life and happiness. In Chinese, the word for "bat" is the same sound as the one for "good fortune." Bats were thought to live for a thousand years.
You will often see a bat on a tile, sometimes readily identifiable and sometimes so stylized it is hard to see. Today we will see a few easily recognizable ones. Many have ears and even whiskers, making them quite endearing.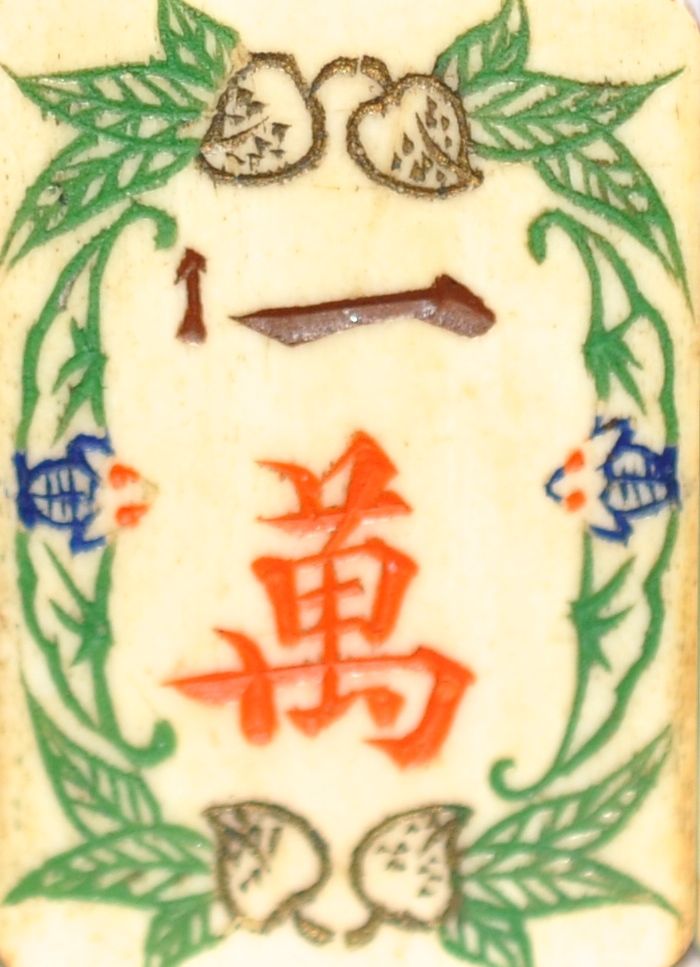 The tile above from a Shanghai Luck Set has two bats, one on each side of the Wan. Paired with the peaches on the top and bottom of the tile, the tile augers well for longevity.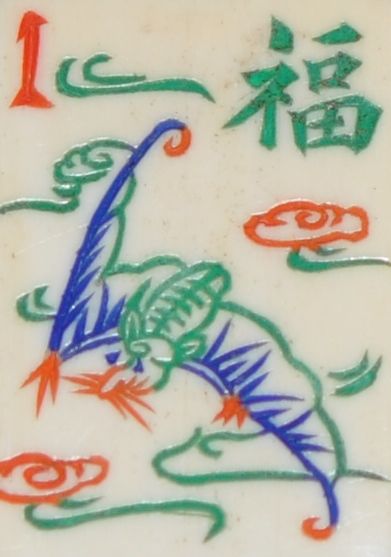 This bat is a bit more stylized, though recognizable. Note the rounded shapes to the left in front of the bat, and to the right behind it, symbolizing clouds.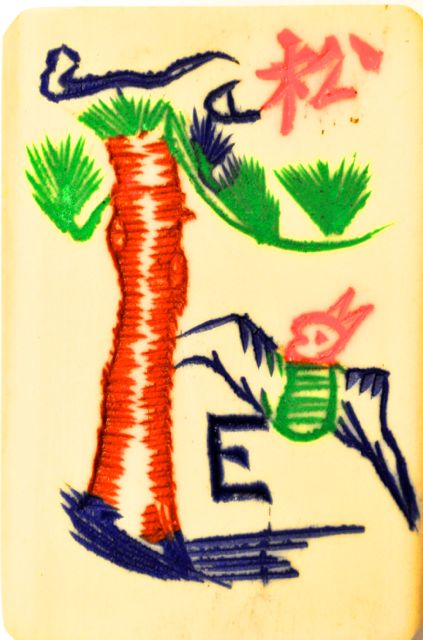 The bat on the above tile is one of four flying creature tile Flowers in a set; the other three are birds.
Above is a similar one from Katherine Hartman's collection. You will notice that each bat is cropped by the tree. The tree, a pine, is another symbol for longevity.
Bats appear in many forms of Chinese art, and they were deemed important from very early days. Here are some captured on robes made for royalty.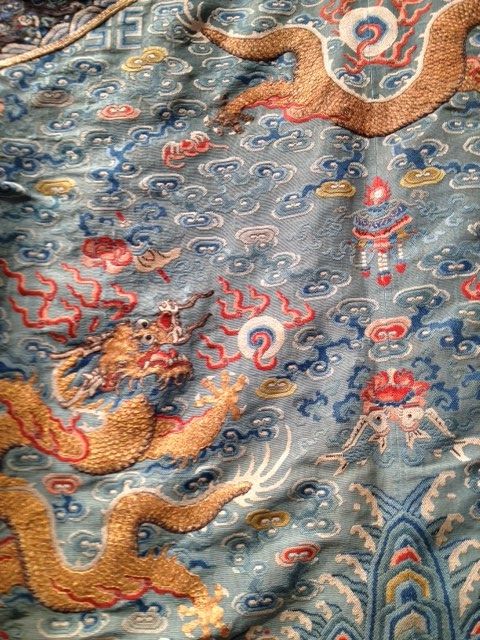 This robe, auctioned off at Sothebys during Asia Week 2014, is an Imperial robe from the 19th Century. You can see a bat flying toward the upper left.
The beautiful robe below was shown by Alan Kennedy in his Asia Week Exhibition : Qing Dynasty Women Concubines & Meiren.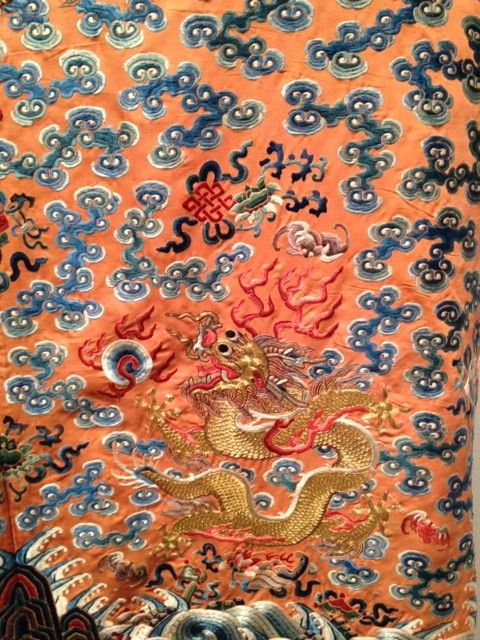 The bat is flying just above the dragon.
There are some other fabulous robes in the Metropolitan Museum collection.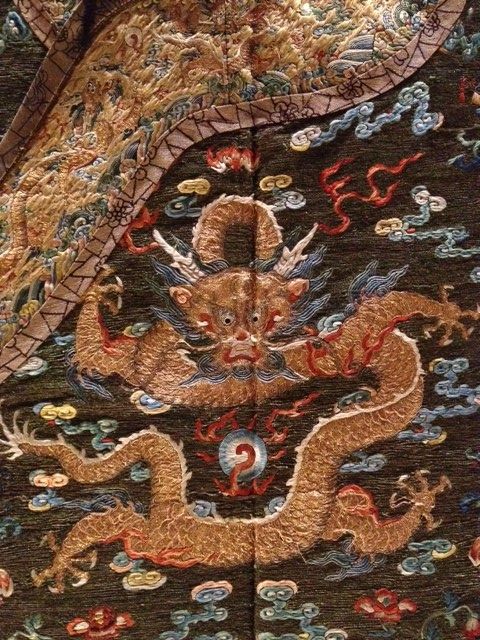 The garment above uses peacock feathers twisted into silk thread for the embroidery, a technique dating from the fifth Century. The bat is just over the dragon's head.
A better view of the greens: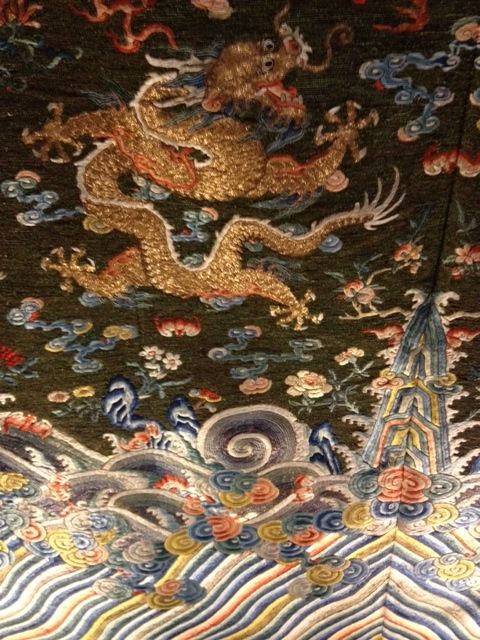 Bats remain important to Chinese culture. Here's a different kind of robe done by the artist Wang Jin in Dreams of China. The pvc robe is embroidered with fishing line to create the patterns.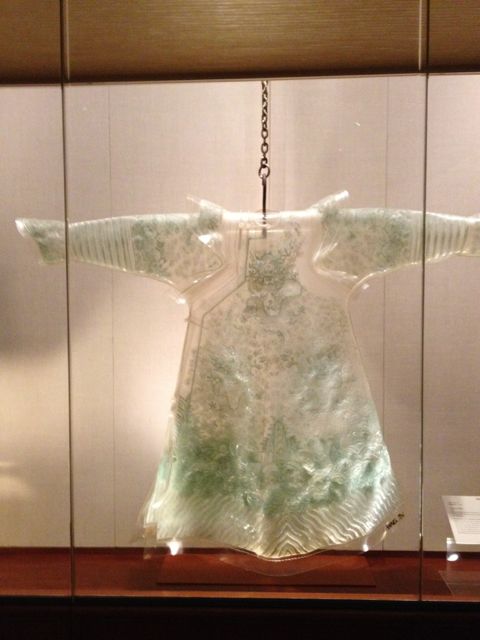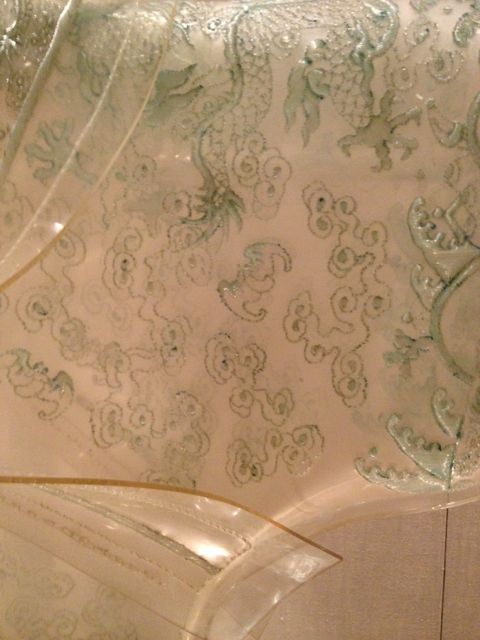 Don't forget the bats!
Please email us if you have any recognizable bats in your mahjong collection.
kuanyinart@gmail.com