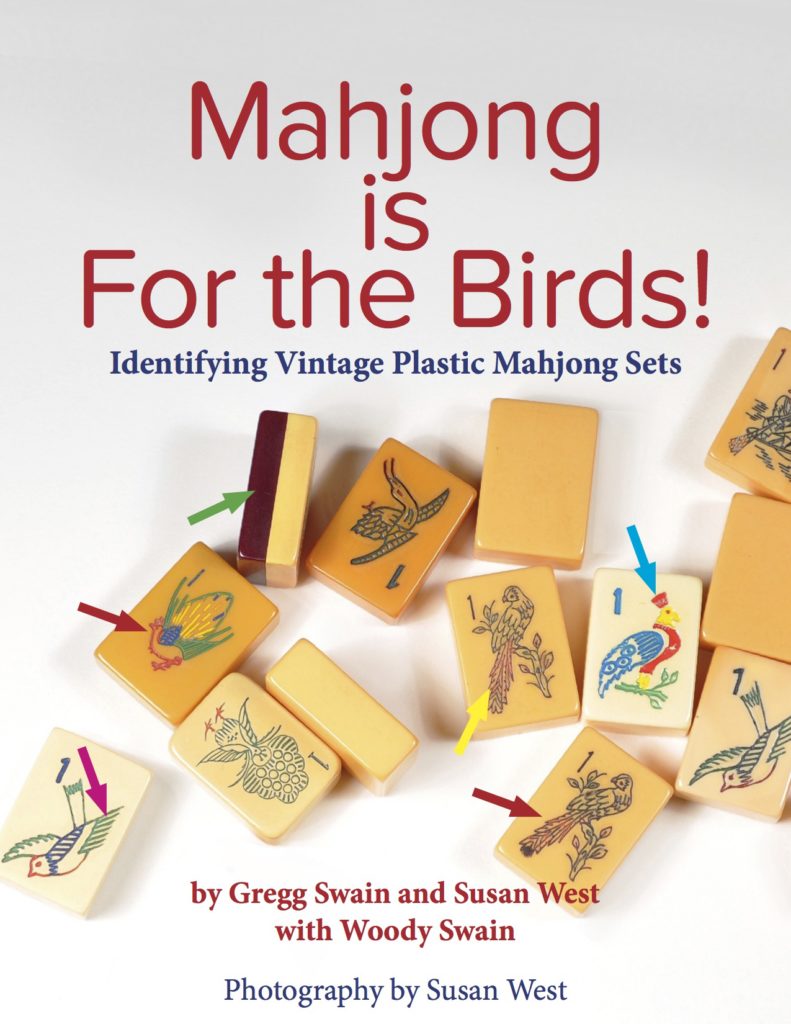 Press Release: Mahjong Is for the Birds
July 7, 2016
DETERMINING THE VALUE OF PLASTIC MAHJONG SETS JUST GOT WAY EASIER – A NEW E-GUIDE
New York, NY: Mahjong collectors Gregg Swain and Susan West have teamed up with Woody Swain, a graphic designer (and Gregg's husband), to produce the first-ever guide to vintage plastic Mahjong sets. Every day, very costly mistakes are made by buyers and sellers who have no idea of a set's value. This e-guide will change all that. It will help Mahjong owners determine what kind of set they have, and begin to ascertain its value. Although there are no prices in the guide – the market is very fluid and much depends on the condition of the tiles and accessories – it will instruct people on the relative rarity, and thus desirability of the sets, without going out of date. Given that sets can sell from between $75 to several thousand dollars, it's a must-have for anyone with an interest in buying, selling, collecting or appraising vintage sets made of materials like Bakelite.
Co-author of Mah Jongg: The Art of the Game Gregg Swain, whose website www.mahjongtreasures.com has gained more than 100,000 views from people in 117 countries, knew from experience that there was a need for this guide.
"Every day, people ask me about their sets. Sometimes they want to sell them, or insure them. Still others want to see what kind of vintage sets are out there, so they can figure out what to buy. This guide does it all. Viewers can identify sets, and learn about how collectible they are and what materials they're made of. They can also use the guide as a wish book, perusing it to see which sets make their hearts pound. Thank goodness Susan West has been collecting and photographing sets for many years; we were able to use her extensive photo library to make this happen."
Susan West, a contributor to Mah Jongg: The Art of the Game, runs the website www.mahjongmahjong.com, which serves as an Internet resource, salesroom, and museum.
"It's a delight to open my in-box each day and meet fellow Mahjong enthusiasts, players, and collectors from all over the world. We all have something in common – a fascination and love for these wonderful old games and a deep-seated pleasure in learning more about the sets we own or have seen. 
"I have learned over the years how far (and long) people have had to search for information about their treasured games. I do hope this book will make life easier for all of you!"
With a title referring to the English translation of Mahjong ("game of sparrows"), Mahjong Is for the Birds is available in a PDF format that can be purchased and kept on users' computers or printed if they desire. It is available at: www.mahjongmahjong.com/mahjong_is_for_the_birds.htm
Gregg Swain can be reached at MahJonggGregg@gmail.com
Susan West can be reached at help@mahjongmahjong.com