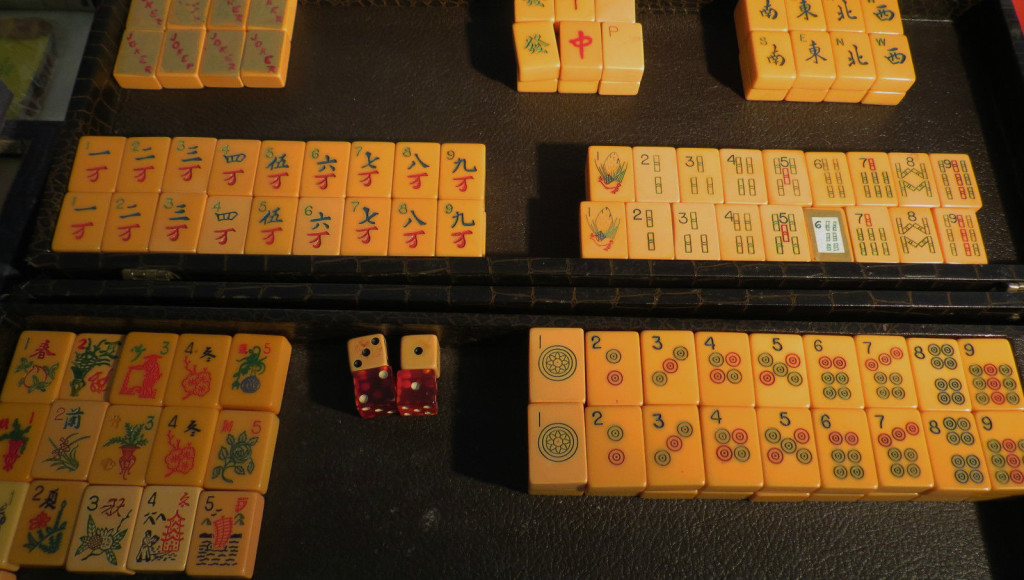 The above set appeared on ebay, and is used as an example of  sets that had tiles added, replaced and stickered by previous owners.
Last week I was at the Battenkill Bookstore in Cambridge New York, "back by popular demand." There were some mahjong players in the area who had missed the first presentation of the Curiosity Forum sponsored with Hubbard Hall, and they wanted to come by to meet me, hear the talk and get their books signed.
Before the talk, they gave demonstrations to visitors about how to play the game.
Several of the ladies who played were very lucky. They own sets that belonged to beloved family members. The sets were old, predating the invention of Jokers, and those previous owners had to improvise about how to play their beloved game. To play by NMJL rules, some other non-matching tiles were added, or nail polish was used on Flowers to turn them into Jokers.
I mentioned to them  I had a few leads  if they want  to get matching tiles, or stickers to use instead of the nail polish. I got the same response I got another time, about another set that had belonged to a beloved relative: "I want to keep playing the game the way they played it. " The historical and sentimental tie was that strong. Their memories of their mothers and other relatives involved the sets looking the way they do, nail polish and all, and by keeping the sets that way they were keeping on that exact tradition of mahjong. Mahjong sets in and of themselves bring out a lot of emotions when owners think about the wonderful times spent around a mahjong set with family and friends.
Sometimes there is no other choice than to find other tiles. I have a beloved set, but many of the tiles had greatly deteriorated, and some were missing. With the help of a friend, I was able to find matching tiles and now I am delighted to be able to play with it. Adding to the set was the only way to save it.
If you get a set and do want to update it, because of missing tiles or other problems, you can look here for resources.