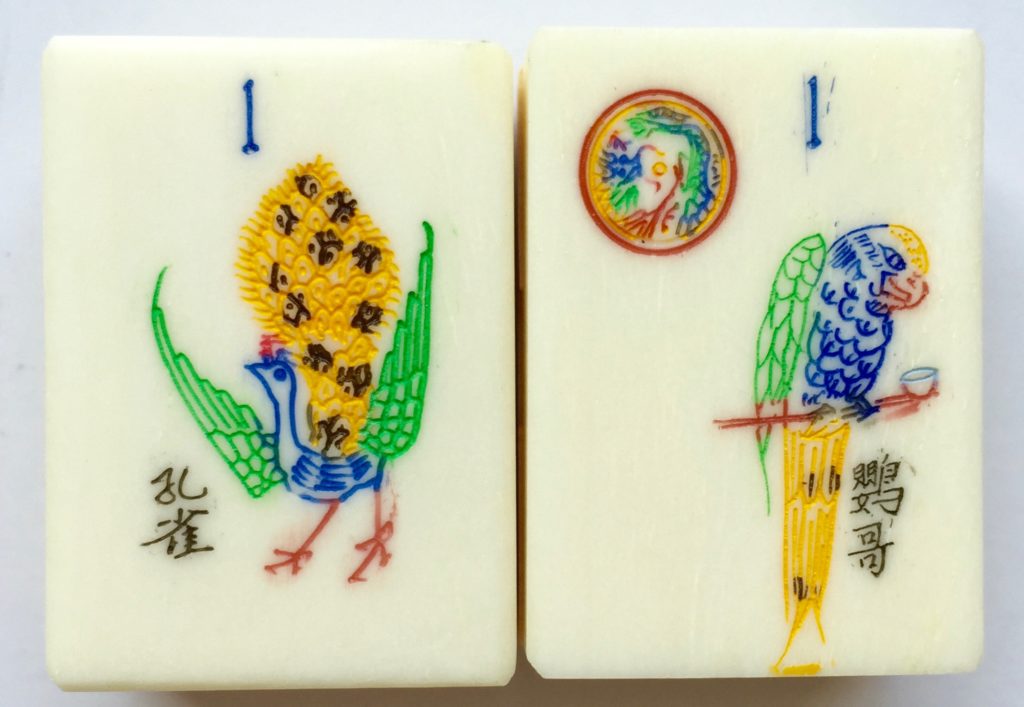 Many of us are drawn to the game of Mahjong because of the beautiful tiles, racks, and boxes, and the wonderful mental exercise.  And how we treasure the friendships formed around the table! Finally, here is a set that has it all: different birds on each kind of suit tile, all beautifully carved. When people play with this set, they can combine two of the world's most beloved activities: Mahjong, the most popular game in the world, and bird-watching! The set was a bit of difficult to play with, but isn't that supposed to be part of the game, mental challenges? And we got used to it very quickly. (I actually think it is good, if you possibly can, to play with different sets. It really is great fun.)
Here follow the tiles in the three suits, and a listing of all the birds.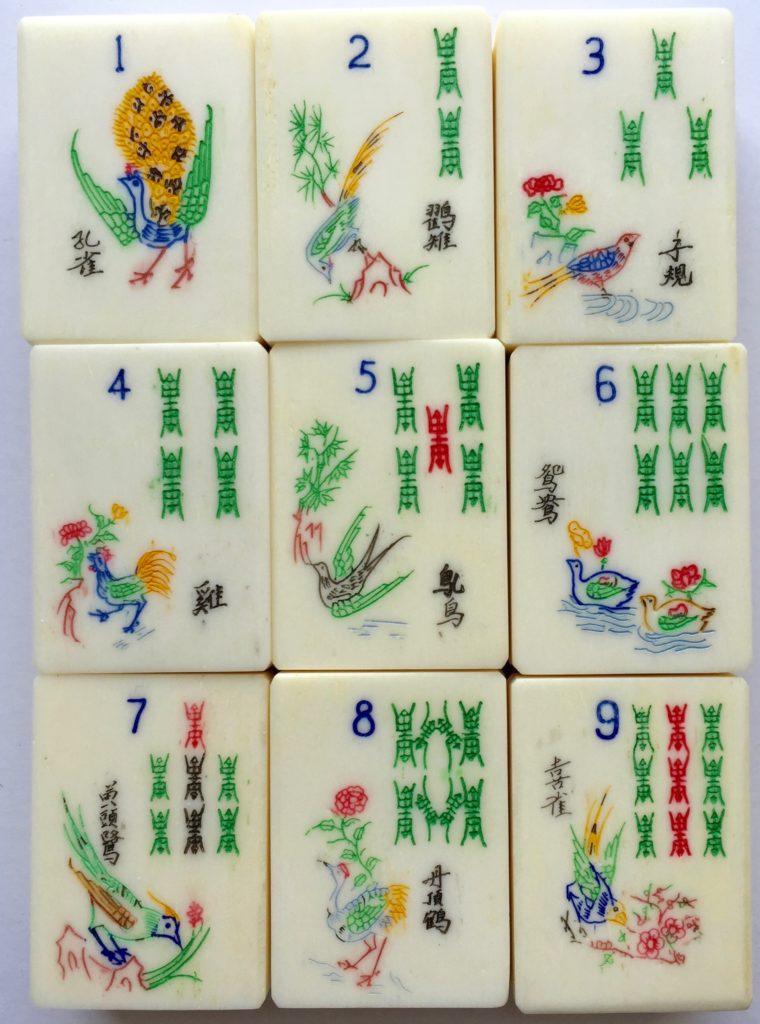 Notice how the Bams themselves are made of longevity symbols (those symbols slip into so much of Chinese design, and, if you are lucky, on Mahjong tiles.)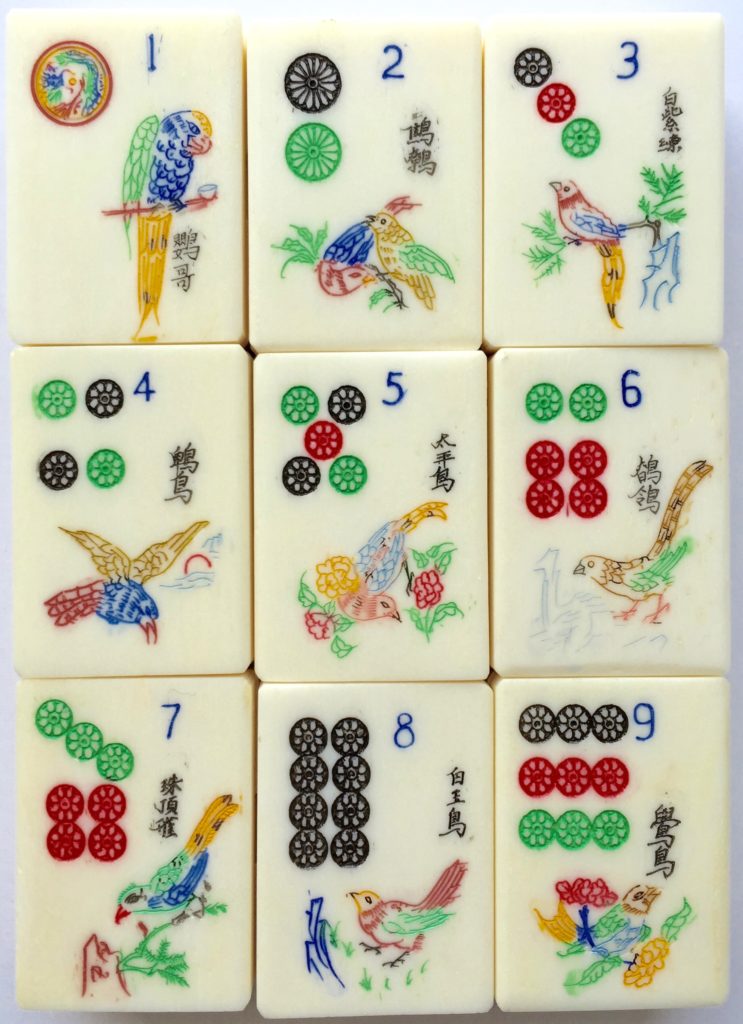 The bold colors of the Dots make them easy to identify quickly.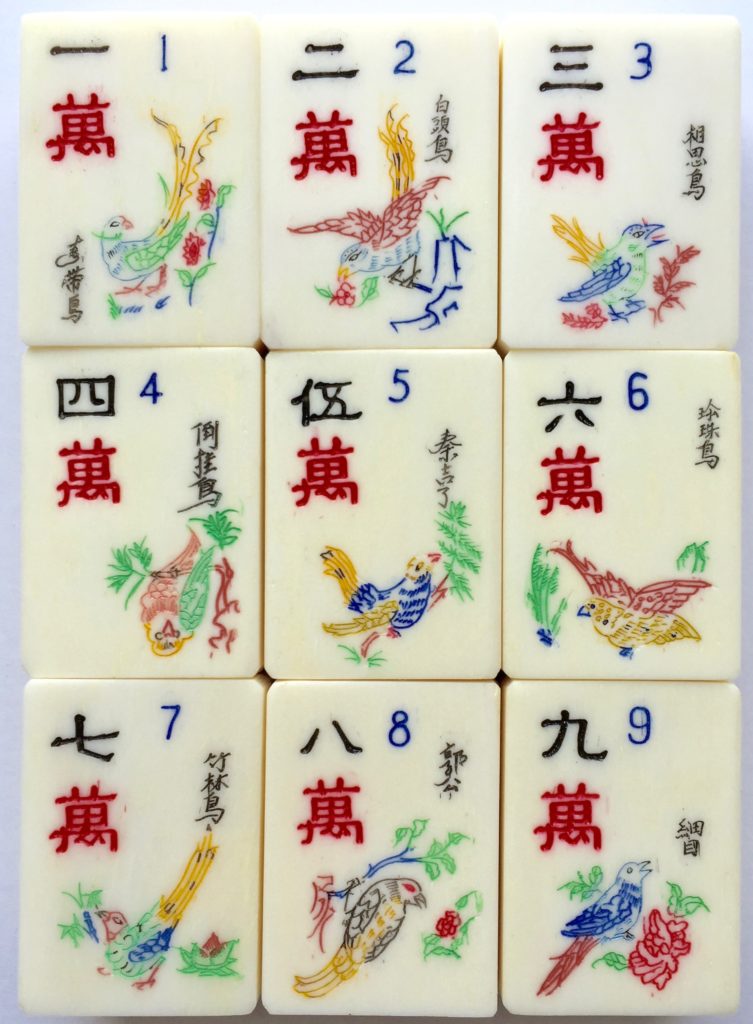 Don't you love that #4 Crak? I thought it was a mistake, but I guess not, because here follows the listing of the birds:
Related bird (2 Dot?)
Starling
Hang upside down bird (Definitely the 4 Crak)
Lovestruck bird (?)
bird in bamboo forest (2 Bam 5 Bam?)
GeGong bird
QiJiLiao Brid
pearl bird
slender eyes bird
Peacock (I have that one: 1 Bam!)
Mynah (?)
ZiGui Bird
cock (4 Bam)
swallow (5 Bam)
mandarin duck (6 Bam)
Eigret
magpie
red-crowned crane (8 Bam)
parrot (One Dot)
wren (9 Crak?)
BaiZiLian Bird
budgerigar
halcyon
wagtail
pearly head bird
BaiYu Brid
fortune-telling bird (!)
Fun, and pretty, right?!
Announcing my latest project: Mahjong is For the Birds, an ebook (the book can be ordered in a color copy version" identifying vintage plastic sets and rating them on a desirability scale. Go to mahjongmahjong.com