This thick bone and bamboo set has a lot going for it, with its One Bams, and deeply carved One Dots. I also love sets with green Chinese numbers on them;they always seem a bit more special to me than than those with the more frequently seen blue. The Flowers are quite lovely, with stories to tell, and we'll be looking closely at them.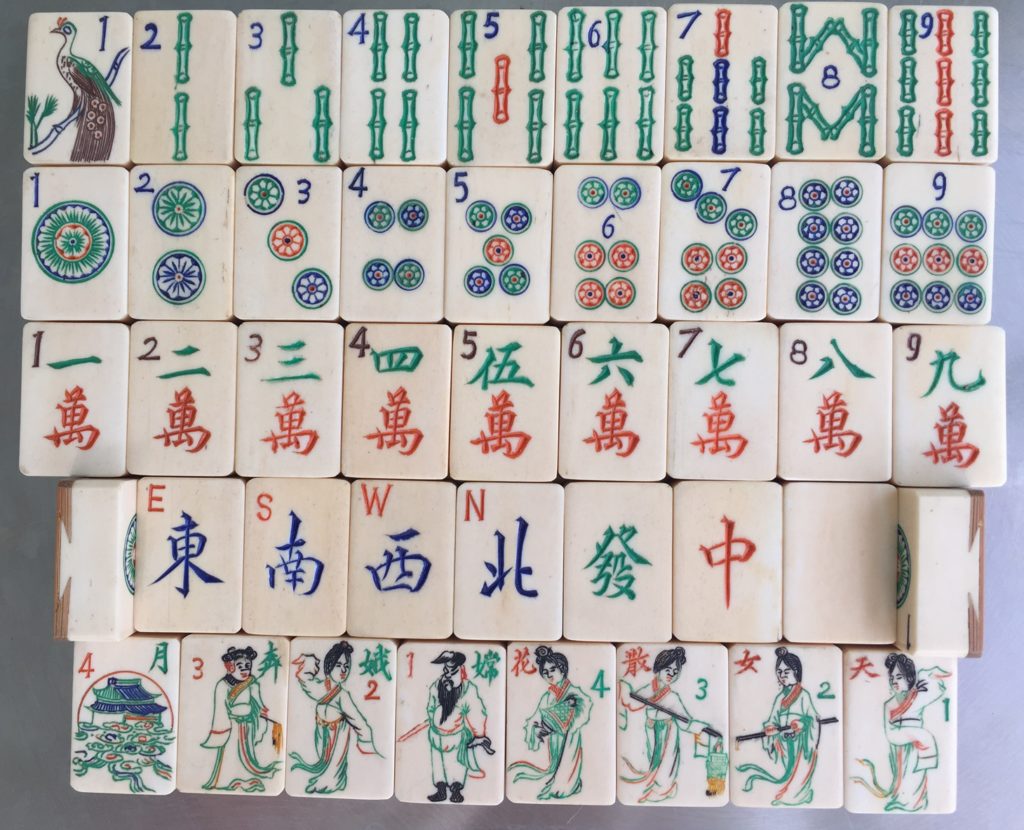 You will immediately notice the delightful perching peacock, sitting on what is clearly a bamboo stalk, seen below. These perching peacocks are among my favorite One Bams on bone and bamboo sets. And given the thickness of the bone you can see that this set sold for a lot of money, and only the most talented of carvers made the tiles.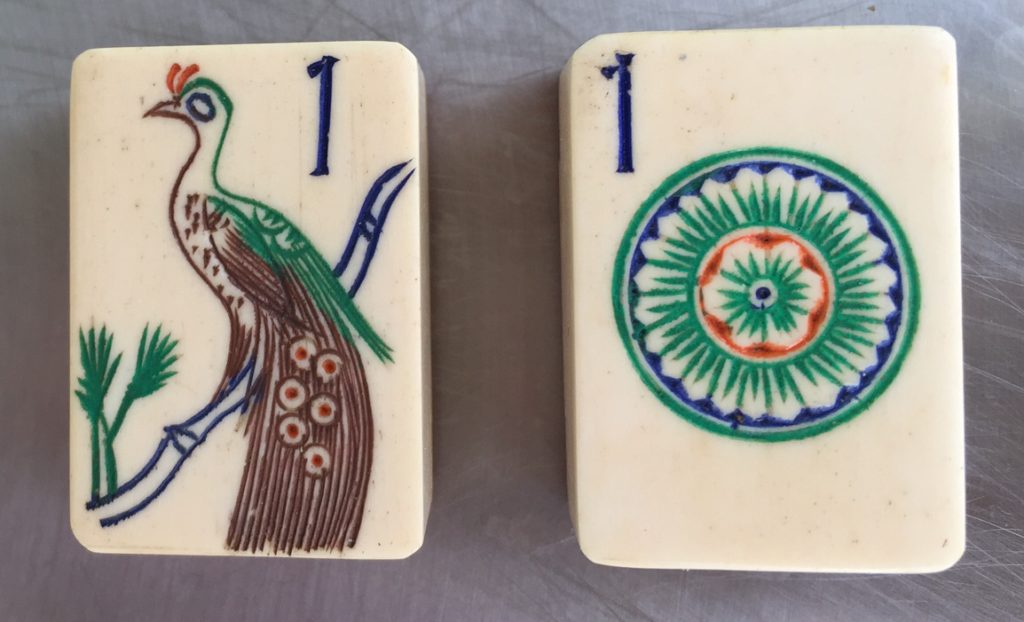 Bamboo stalks feature those nodes, (you can see two on this stalk) and there are bamboo leaves in the background. The One Dot is deeply carved, with the flower within flower center.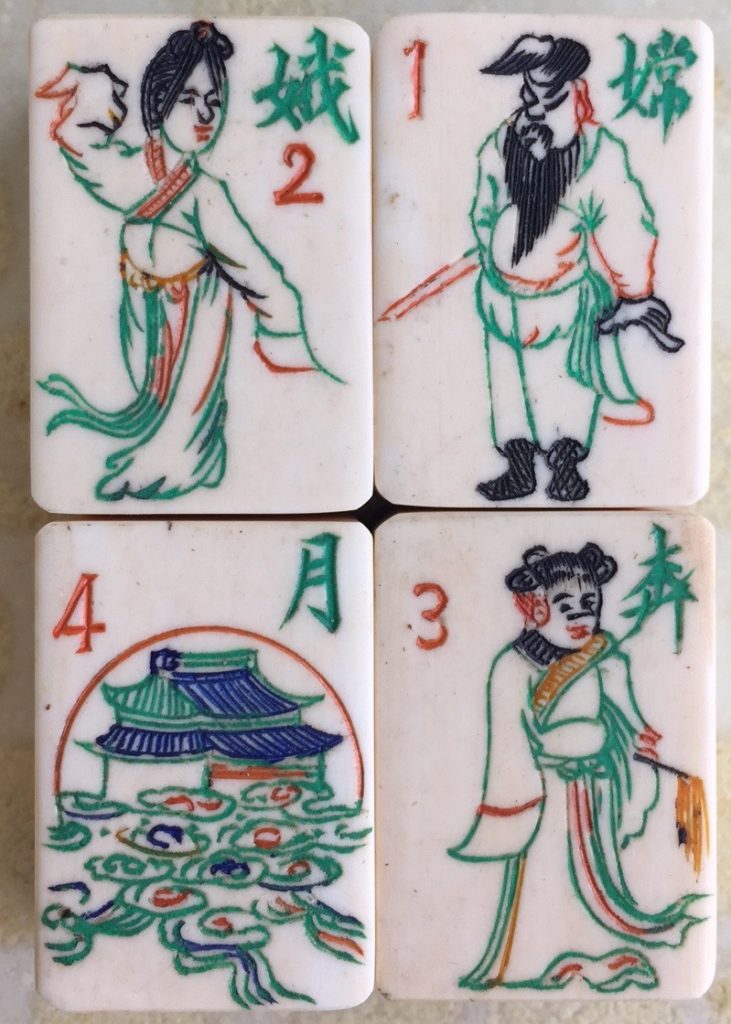 This grouping of Flowers is the story of  Chang'e.
Ray Heaton translated and interpreted the tiles for us.
"Chang'e Ben Yue," Chang'e flies to the moon. Chang'e stole the herb of immortality and fled to the moon. She became immortal, but sadly, she was cloistered on the moon for eternity. Her moon palace is featured on #4." The palace is placed right in front of the round moon background, and the Chinese character for moon is there on the tile.
Whenever you see those curlycues under something or someone, as can be seen on tile #4, that image represents heaven, thus here her heavenly palace. If they are under a "person's" feet, that person is associated with heaven or is a god. To read more about Chang'e, click here for the Wikipedia write-up)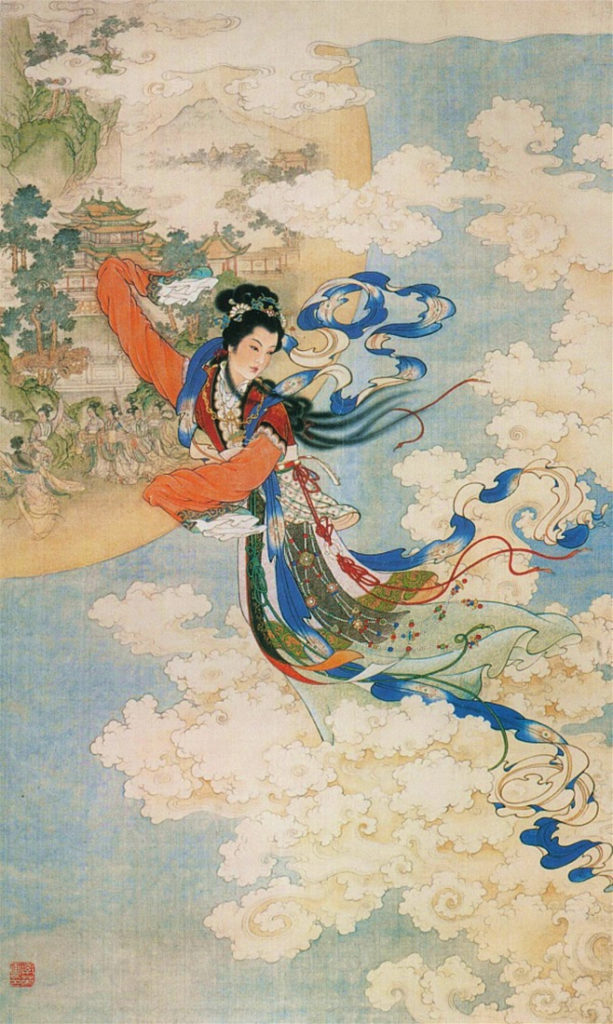 Above is another visual interpretation of her, taken from Wikipedia.
The next set features a story of another maiden, The Heavenly (sometimes called Celestial) Maiden.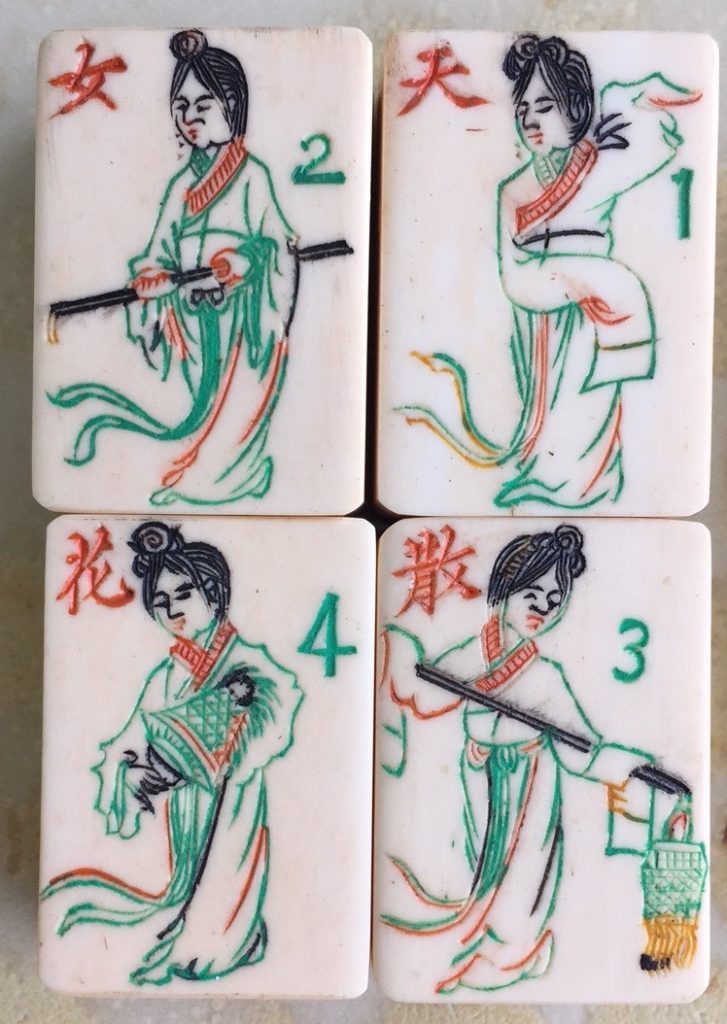 "Tian Nu San Hua" translates to mean the Heavenly Maiden Scattering Flowers. This maiden is said to be Buddhist in inspiration: Sakyamuni, the buddhist Deity, sent the heavenly maiden to scatter blossoms over the Earth. He told her the petals would not cling to the sleeves of those who had conquered their desires."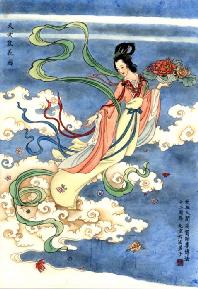 Both of these stories were beloved by the Chinese and are operas or operatic plays. The great Mei Lanfang, seen below, wrote an opera about Chang'e. Mei performed her role, and in the photograph you can see the character is holding the stick just like she is on the mahjong tile. Sadly all the videos I could find on line of Mei's performances were of such poor quality that it is not worth linking them to this post, but click here for a write up of Mei. He was quite an incredible man.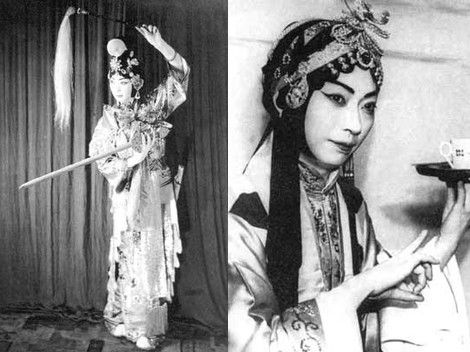 Flower tiles tell us wonderful bits of information about Chinese culture and history, and if we follow up on the clues we get on the tiles there is always something fun to learn. From now on, when I look at the moon I'll be thinking about Chang'e. I wonder if she got together with the Man in the Moon-hope so!
We can all be grateful that these sets made for export got out of China before the Cultural Revolution when Mao ordered all Mahjong sets destroyed. At least these bits of Chinese history and culture have been preserved for us to enjoy and play with.