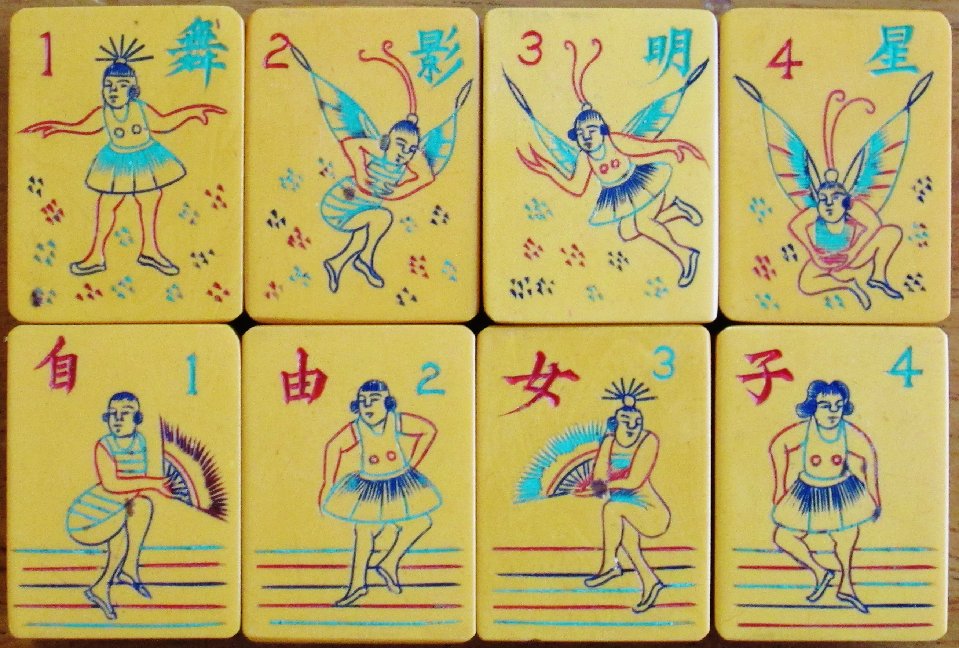 We all know how wild people can be about their favorite stars, whether people on the stage and screen or sports stars on the field or the court.  Things were not so very different for mahjong carvers backs in China in the 1920s and 1930s; the cult of celebrities existed even back then. The carvers were spreading political messages and giving publicity to some of their favorite stars.
Above are some of the most delightful Mahjong tiles I have ever seen. Fairies and ballet dancers– what could be more charming?
Interestingly, there are messages on the tiles. The top row translates to mean "women's liberty" (thank you, Ray) so perhaps a hope for equal rights for women, dating from the 1930s in all probability.
The bottom row is quite fascinating as well. It celebrates a particular Chinese actress. The tiles translate as :
Bottom row are 舞影明星, Wu Yin Ming Xing, "A film and dance celebrity".  Thanks to additional help by another friend, we know who that is:  Wu Yin was also known as Yan Ying, and she was an actress working for the Mingxing film company in the 1930s. From Wikipedia:
http://en.wikipedia.org/wiki/Wu_Yin_(actress)
One of the movies she acted in details some of the troubles of being a young modern woman, so the Women's liberty translations might well tie in directly with the bottom row of tiles. New Women features scenes in a dance hall, so perhaps it is not surprising that we have dancers shown.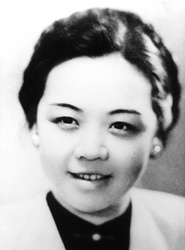 From Wikipedia, Wu Yin. Her life was quite interesting, and she really proved herself to be a survivor.
And other actors are celebrated on other hand-carved Mahjong tiles as well. Here on a Bone and Bamboo set, probably from the early 1920s, we see four images.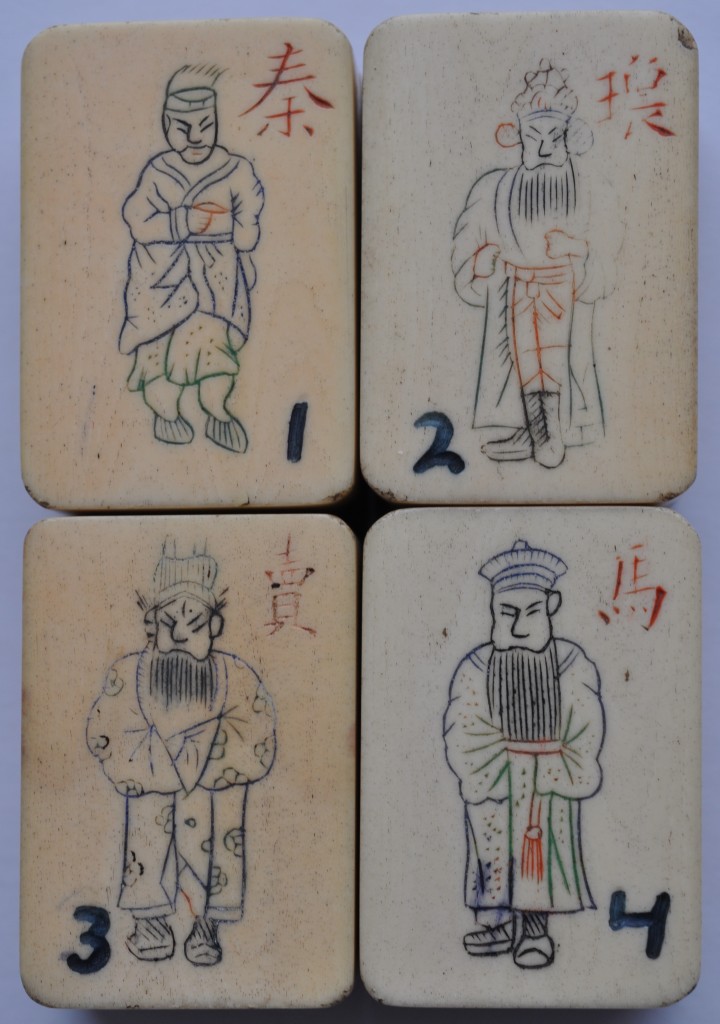 From Ray Heaton:
I'm pretty sure one set is Qin Qiong mai ma 秦瓊賣馬 ('Qin Qiong sells his horse')
Qin Qiong (also known as Qin Shubao 秦叔寶), spent his early career fighting to overthrow the Sui dynasty. He eventually rose to become a general in the early Tang and continued to be honoured by the emperor after he died in 638. He was also an important figure in much later works of historical fiction. The opera 'Selling the Horse' is centred on a situation in which the great hero finds himself stranded without money to pay his bill at an inn and is forced to sell his horse. Because he has been ill and unable to care for it properly, the horse is emaciated, and he is unable to find a buyer until a perceptive man named Shan Xiongxin 單雄信 recognizes the quality of the steed. But before the deal is consummated, Shan receives word that his brother has been shot by the Tang founder, Li Yuan 李淵. Qin allows Shan to race off on his horse without paying. The only things of value the Qin has left are his prized weapons, a pair of heavy riding-crop-like rods that are used like maces for clubbing or whacking (they are called shuangjian 雙簡 in Chinese). Two other heroes of the age who are Qin's admirers find him and get him out of his predicament. 
Around the turn of the century (1900 that is), Tan Xinpei's performance of the role of Qin Qiong in the opera of the same name as on the tiles, Qin Qiong Mai Ma, made him the equivalent of today's mega-star. A saying of the time was that the people of Beijing had no time to concern themselves with the rise or fall of their country; everyone in the whole city was competing in shouting his stage name.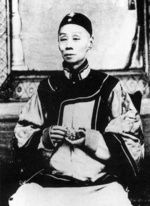 This photo from the Chinese Mirror
Here's an extract about the actor.
From Chinese Mirror
     Tan Xinpei谭鑫培 (1847-1917) was born Tan Jinfu, a native of Jiangxia (now Wuchang), Hubei.  In his earlier career, under the stage name Xiao Jiaotian, Tan specialized in both heroic and comic male military roles in Beijing (Peking) opera.  As he entered middle age, he began transitioning to the older, bearded male characters known as "lao sheng"  老生, then formed his own company to implement and popularize a new performing style he had developed for years, a style which combined singing, speaking, acting and fighting in each individual performer, rather having each of these skills performed by individual specialists.  This new approach, which became known as the "Tan School," soon became dominant in Beijing opera in the latter 19th century.  In 1905, he collaborated with photographer Ren Qingtai to record excerpts from some of the actor's classic roles on film, making Tan Xinpei the first actor in China's motion picture history.
http://www.chinesemirror.com/index/2006/10/tan-xinpei-1847.html
From arts.cultural-china.com: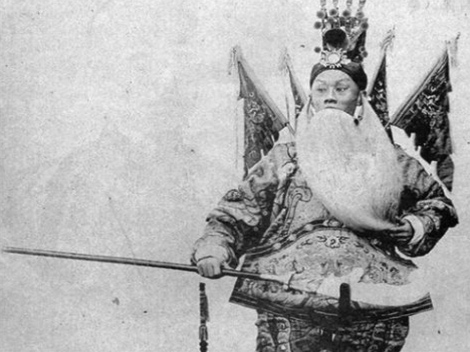 and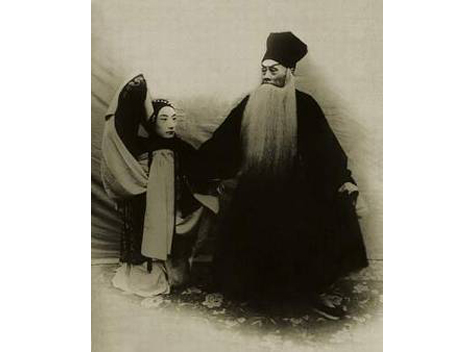 So the costumes were not so very different from what we have on many mahjong sets, right?
Perhaps this is the equivalent of what we have going on these days, with celebrities being featured in games, board games and card games alike.
Enjoy this trip down memory lane:
http://www.ebaumsworld.com/pictures/view/83091157/
And don't forget all those video games too!!
I am undertaking a new project involving the social history of the game. You can read about by clicking History Project at the top of the Page. Perhaps you would like to participate. I also have a group (not the page) on Facebook: Mahjong Memories.
For those of you who don't yet know, there is a wonderful magazine, The Mahjong Collector.  A big round of applause for all who work so hard to publish it. 
You can find out more by emailing them at this address:

To see when I am doing author appearances, click here

You can now follow me on Twitter!

@MahJonggGregg

To learn more about Mah Jongg, you might want to take a look at this book that I wrote with Ann Israel, published by Tuttle.

www.mahjonggtheartof thegame.com

To order it click here:

http://www.barnesandnoble.com/w/mah-jongg-ann-israel/1118759459?ean=9784805313237

or here from Amazon

http://www.amazon.com/Mah-Jongg-Collectors-Guide-Tiles/dp/4805313234/ref=sr_1_7?ie=UTF8&qid=1414844427&sr=8-7&keywords=mah+jongg