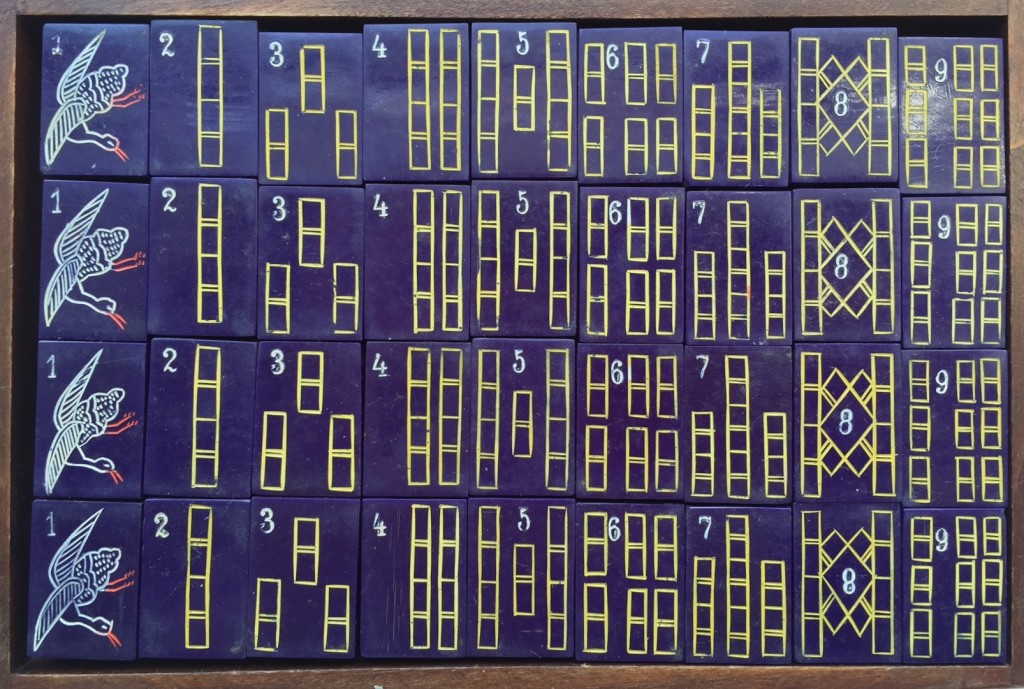 A very lucky reader sent me photos of her newest Mahjong set. She confessed she had taken a big risk at auction, not having been able to see photos of any tiles close up. She was delighted when the box arrived and she knew this time her instinct was correct, and her excitement about this purchase got her to send me photos to post on this blog . According to her, the colors of the tiles are true in these photos. It seems all the colors in the tiles were painted. And the sharp crisp corners of the tiles indicate perhaps a German or Austrian manufacturer.
This is one of those great times when a set is rare, the colors are fabulous, and the designs terrific. Purple tiles allow for many different color effects on the tiles themselves. Here on the Bamboos we see yellow instead of our usual green. The flying crane of longevity is simple in the white outline with his red legs and bill. The 8 Bams have a real Art Deco look to me.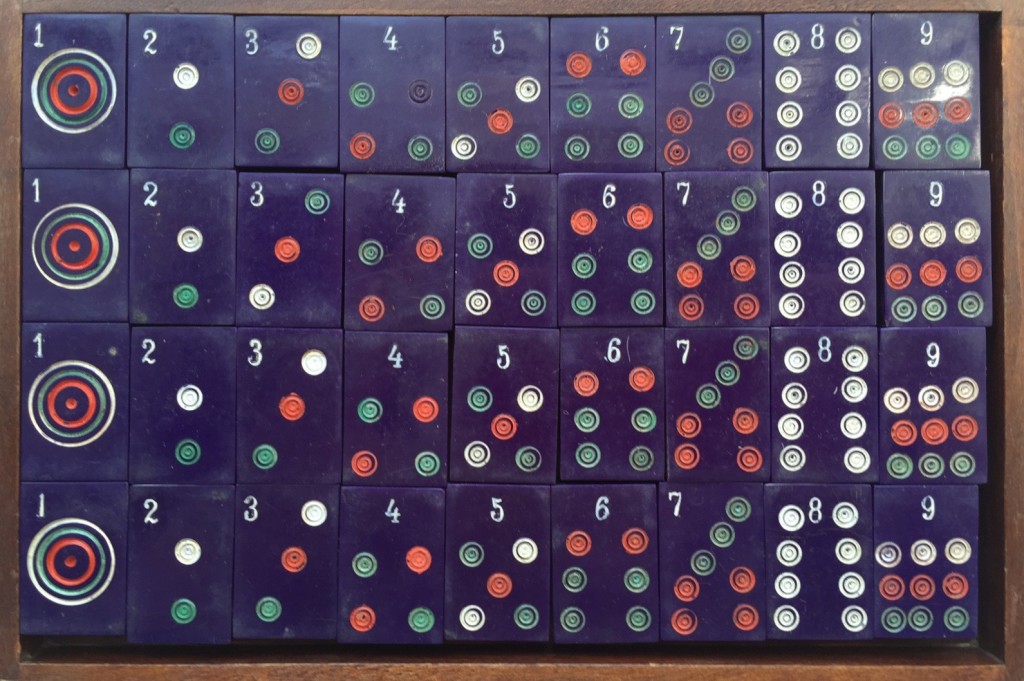 The One Dots look like targets, don't they? What's interesting here is that you can see that all the tiles are not the same size, despite being machine made.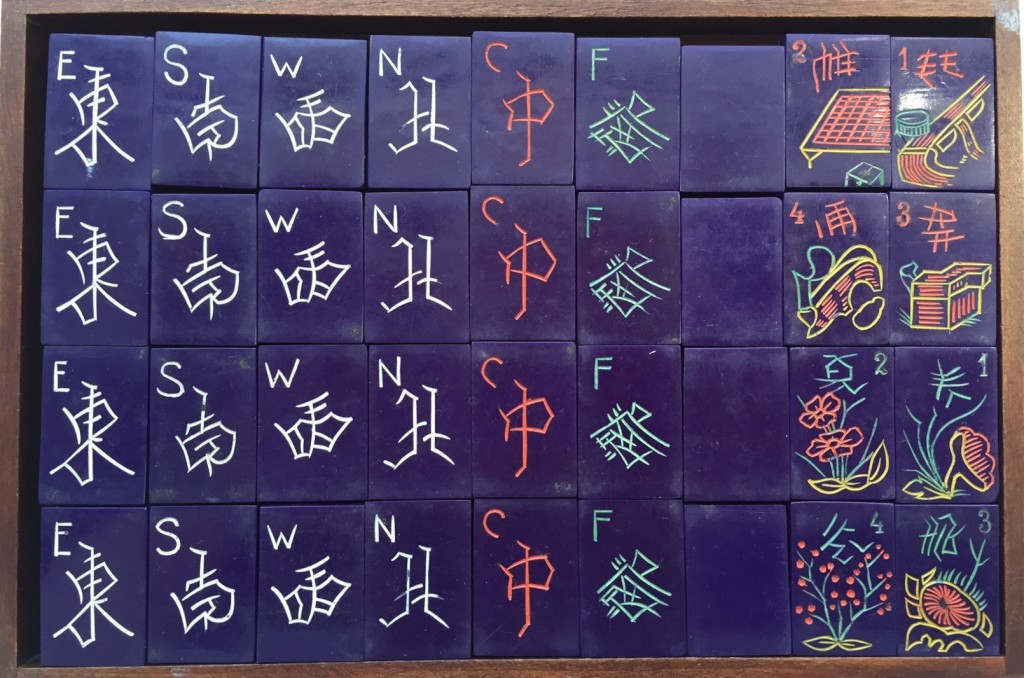 The Winds, Dragons and Flowers certainly don't disappoint with their unique and spirited Character renditions, all very angular in keeping with the squared off quality of the tiles themselves. The Flowers have a neon sign look to them, don't they? The top ones are the Four Arts of the Scholar and the lower ones flowers, although not the traditional ones we usually see.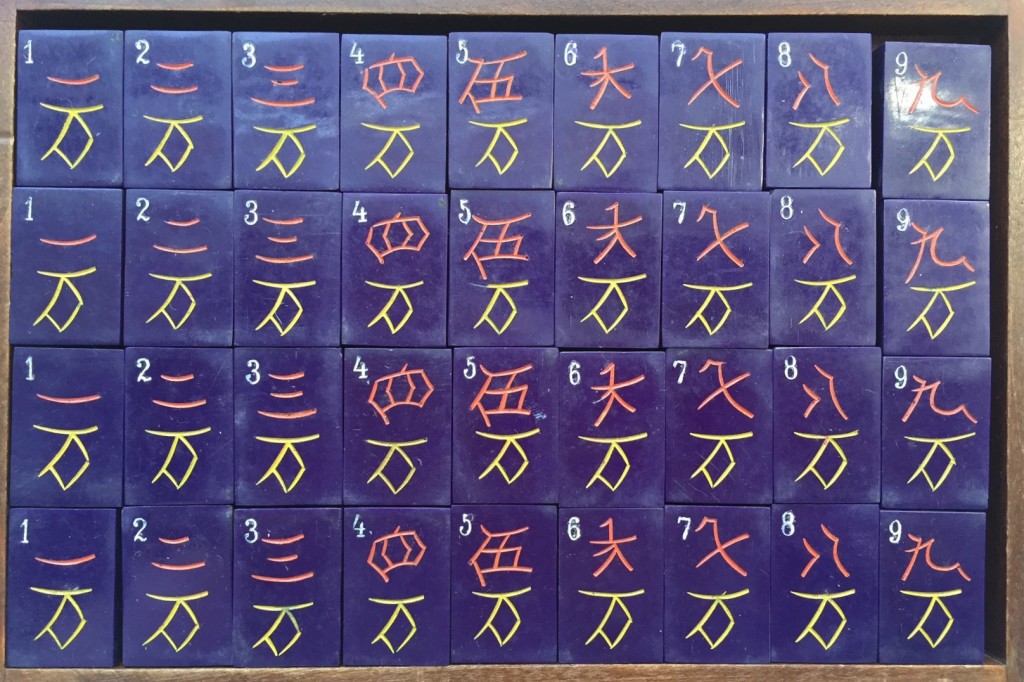 Who would have thought the Craks would be a favorite suit? Everything about the spirited Chinese numbers and Characters delights the eye, including the colors.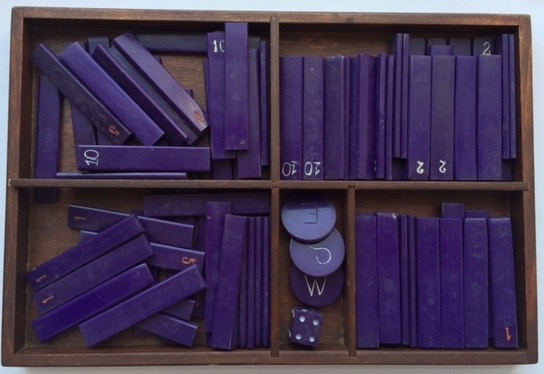 The Wind Indicators and the counters are the same beautiful material and color. All beautiful, don't you think?
Maybe she will have to learn how to play the Hong Kong version, Wright-Patterson or another form of the game so that she can play with the set!
I am undertaking a new project involving the social history of the game. You can read about by clicking History Project at the top of the Page. Perhaps you would like to participate.