This set was recently auctioned off on Liveauctioneers.com
You will quickly notice the lack of Western letters and Arabic numbers which indicate the set was not meant to be exported from China, but somehow or other it finally made its way out of China to the States.
If you look carefully at the Flower tiles, you'll see there are two sets of dots, one set is dark, and the other one red. Each set has tiles with 1, 2, 3, or 4 dots on them. Tiles like this show up from time to time. You may know that often Flower tiles have numbers on them, two sets of numbers in red and green, numbering from 1 to 4. These tiles have pips that represent the number associated with each tile. For many of us, the number on Flower tiles does not make a difference, but for others who play Hong Kong style, for example, these numbers do make a difference, because each player has a number associated with their seat; if they get the tile associated with their seat, they get an extra point in that game. So from time to time you'll see pips on tiles, and at other times Arabic numbers might be added. It is possible that this set has pips because the rest of the set does not have any Western letters or Arabic numbers, and pips are in keeping with the type of set it is. It is hard to tell from the photo but these pips may have been carved into the tile; sometimes pips and numbers are added in pen or pencil.
There are a few other interesting aspects to the set, proving that photographs can be deceiving. From the top photo it looks like a Chinese Bakelite set because of all the yellow tint. However it is actually French Ivory, as seen in these next photographs.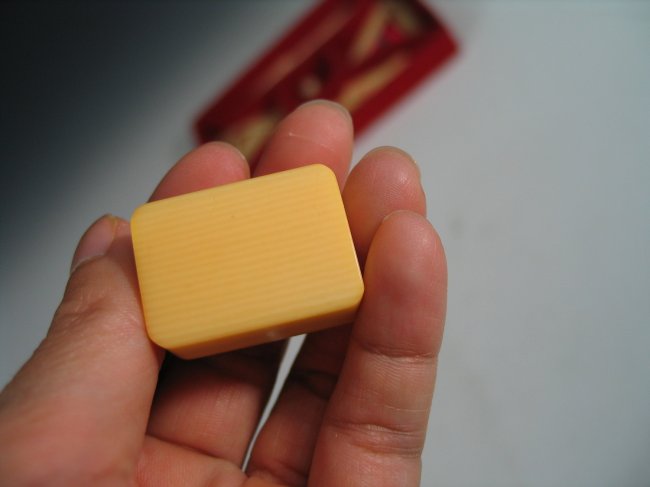 You can see the alternating colors on the tile, indicating it is French Ivory.
And the true color is probably closer to this: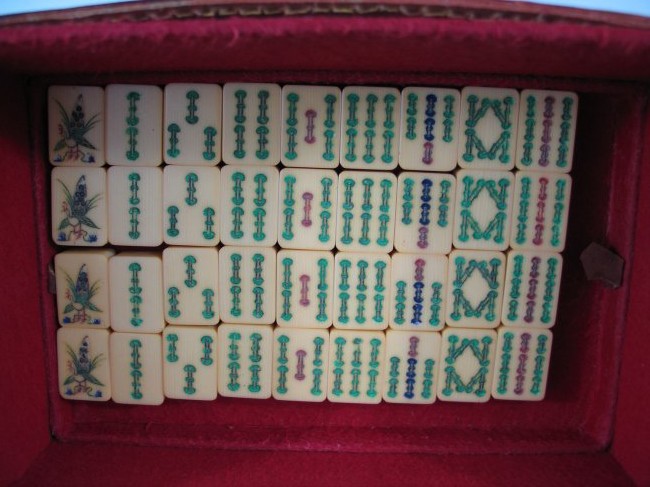 The White Dragons, seen in the top photo, are pretty wonderful too.
I am undertaking a new project involving the social history of the game. You can read about by clicking History Project at the top of the Page. Perhaps you would like to participate.