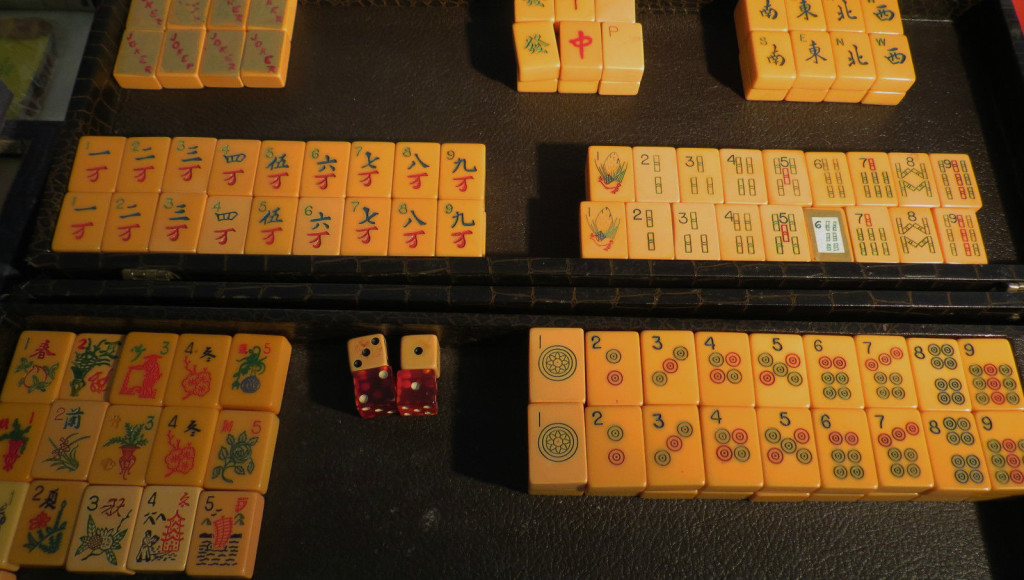 The above set was on ebay, and is used as an example of  a set that had tiles added, replaced and stickered by a previous owner.
The other week I was at a bookstore for a talk and signing. There were some mahjong players in the area who came by to meet me, hear the talk, buy the book and get it signed.
Before the talk, the players gave demonstrations to visitors about how to play the game.
Several of the ladies who played are very lucky. They own sets that belonged to beloved family members. The sets were old, predating the introduction of Jokers, and those previous owners had to improvise about how to update their sets to play by NMJL rules. Some added non-matching tiles, others put nail polish on extra Flowers.
I mentioned to the players  I have a few leads  if they want  to get tiles to match the ones in their set, or stickers to use instead of nail polish. I got the same response I got another time, about another set that had belonged to a dear relative: "I want to keep playing the game the way she played it." Their memories of their mothers and other relatives involved the sets looking the way they do, nail polish and non-matching tiles and all, and by keeping the sets that way, they were keeping on that exact tradition of Mahjong. Along the same lines, recently another reader contacted me. She had inherited her grandmother's set and she wanted to learn to play the game according to the same rules and scoring her grandmother used, yet another lovely way to keep connections with beloved relatives. Mahjong sets in and of themselves bring out a lot of emotions when owners think about the wonderful times spent around a Mahjong set with family and friends.
Emotional connections exist in fiction too. There's a lovely play called The Men of Mah Jongg, written about a group of men who used to play poker but switched to Mahjong following the death of the wife of the one of the players. It's the departed wife's love for the game that encouraged these men to connect around the table. Here's a write up in Playbill:
http://www.playbill.com/news/article/elderly-men-play-mah-jongg-in-world-premiere-directed-by-medoff-dec.-5-14-i-155779
If you get a set and do want to update it, because of missing tiles or other problems, you can look here for resources.
To see when I am doing author appearances, click here
You can now follow me on Twitter!
@MahJonggGregg
To learn more about Mah Jongg, you might want to take a look at this book that I wrote with Ann Israel, published by Tuttle. To see more about it:
www.mahjonggtheartof thegame.com
To order it click here:
http://www.barnesandnoble.com/w/mah-jongg-ann-israel/1118759459?ean=9784805313237
or here from Amazon
http://www.amazon.com/Mah-Jongg-Collectors-Guide-Tiles/dp/4805313234/ref=sr_1_7?ie=UTF8&qid=1414844427&sr=8-7&keywords=mah+jongg