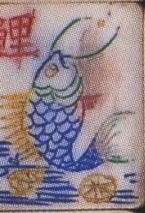 I thought it might be fun to really get a good look at some of the marvelous treasures that were in the Japanese Mahjong Museum. For those of you who don't know, the Museum was founded in 2002 by a Japanese publisher, Mr. Kyouitirou Noguchi, and its collection was the finest in the world. Soon after Mr Noguchi died, the collection was sold. We all have high hopes it can once more be put on display for everyone to enjoy and study.
In the meantime, there are two wonderful catalogs of the collection. The photographs are extraordinary. The sets run the gamut from those made of  paper to ones made of cloisonné, and silver. The catalogs themselves have become collectibles. The set today is on page 14 of the soft cover catalog.
The game is called "The Officials Promotion Tiles" and it closely resembles some of the variants of the suits we see in Mahjong. Although not technically Mahjong, the set is very similar to what we have been seeing. And it's really pretty to look at!! The color palette is unusual, with the addition of the gold paint, and the blue is a lovely shade.
Carp have great meaning to the Chinese.
From Primaltrek.com
"The carp fish is a commonly seen visual pun because the Chinese character for carp (li 鲤) is pronounced the same as both the character (li 利) for "profit" and the character (li 力) for "strength" or "power". 
and
"A frequently seen image is of a carp swimming and leaping against the current of a river to reach the spawning grounds.  This refers to the legend (liyutiaolongmen 鲤鱼跳龙门) that a carp which is able to leap over the mythical "Dragon Gate" will become a dragon.  This is an allegory for the persistent effort needed to overcome obstacles."
Given that this set is all about Officials getting promotions, certainly the second meaning of the image has its appeal.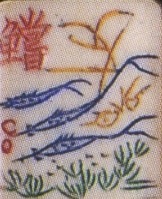 These fish were really hard to see as fish at first. But after looking at it for a bit, I was able to make it out. These fish do live in the waters around China. Don't you love the red at the tip of its nose?

The next fish is a bit more common on Mahjong tiles: the goldfish. I think this one has a great bit of spirit! He almost looks like he's smiling.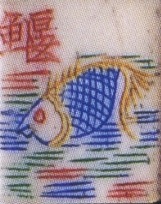 The goldfish is a symbol for wealth because the way goldfish is pronounced in Chinese. The first syllable is the same as "gold" and the second the same as "jade."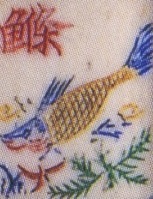 I am not sure what this fish is, but I like his looks!
Finally, from another suite of Flower tiles within the same set
Imagine getting that much personality on a really small turtle on  small tile! The tortoise, or the turtle in China, is a symbol of longevity. They also symbolize strength and endurance.
You can now follow me on Twitter!
@MahJonggGregg
To learn more about Mah Jongg, you might want to take a look at this book that I wrote with Ann Israel, published by Tuttle. To see more about it:
www.mahjonggtheartof thegame.com
To order it click here:
http://www.barnesandnoble.com/w/mah-jongg-ann-israel/1118759459?ean=9784805313237
or here from Amazon
http://www.amazon.com/Mah-Jongg-Collectors-Guide-Tiles/dp/4805313234/ref=sr_1_7?ie=UTF8&qid=1414844427&sr=8-7&keywords=mah+jongg