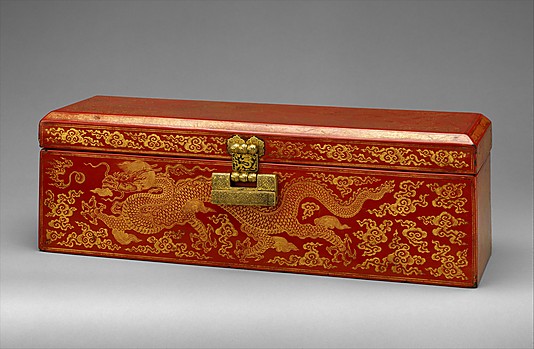 In the collection of the Metropolitan Museum of Art we see this beautiful sutra box, made in the Yongle period of the Ming Dynasty that lasted from 1403 to 1424.
"Vigorous, sinewy dragons are depicted often on works in porcelain, lacquer, and other materials from the reign of the Yongle emperor. Intended to hold a Buddhist text made in the Chinese handscroll format, elegant boxes like this one were produced both for use at the court and as diplomatic gifts, particularly to Tibet. Although carved lacquers from the period have been preserved in some number, examples decorated in the engraved and gilt technique (qiangjin) — in which a pattern carved into a lacquer surface is filled with gold or gold pigment — are rare. It is also unusual for the metalwork lock and key to have survived."
The Brooklyn Museum, which featured a lacquer show in the 1980s, writes this in their catalog:
"The art of lacquering dates back to the Shang Dynasty (1500-1027 B.C.) in China when it was used chiefly to enhance the durability of utilitarian objects. It is characterized by a hard, smooth, highly polished finish it gives to numerous materials, even such impermanent ones as vegetable fiber, textiles and paper. Lacquer workshops with master craftsmen were a part of the artistic culture of ancient China, Japan and South to Southeast Asia and Persia, with each region developing its own technique of lacquering. Over the centuries contact between cultures brought a cross-fertilization of techniques as well as methods of manufacture."
And from Wikipedia:
"In Ming China processes included up to a hundred layers. Each layer requires drying and polishing. When all layers are applied the artist polishes different parts of the painting until the preferred colours show. Fine sandpaper and a mix of charcoal powder and human hair is used to carefully reach the correct layer of each specific colour. Consequently "lacquer painting" is in part a misnomer, since the bringing out of the colours is not done in the preparatory painting but in the burnishing of the lacquer layers to reveal the desired image beneath."
Clearly lacquer artists were incredibly skilled and patient. We often see lacquer on Mahjong racks such as these:
The dragon, his body greatly hidden by clouds, and the flaming "pearl" are seen above. This rack was probably made in the 1920s. Now that we know it might have taken 100 layers to create, we can truly admire the skill of the artist who made it. The black compartments were used to store counters.

Another one of the racks from this set, this time with two dragons surrounding the flaming "pearl." It is possible the lacquer here might have had real gold in it.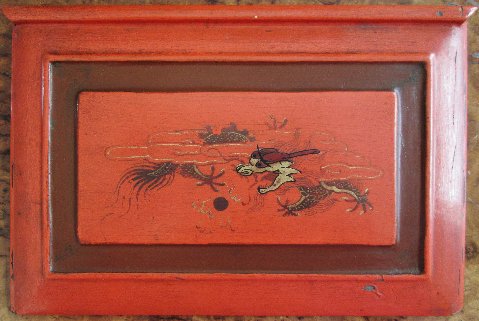 And here is the front panel of a red lacquer box, with another red dragon and flaming "pearl."