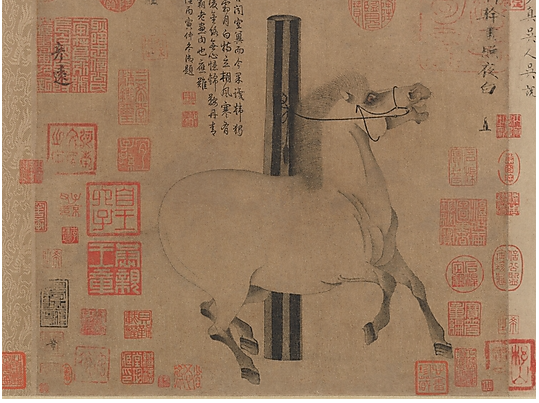 This magnificent horse is in the collection of the Metropolitan Museum. It was done in pen and ink sometime around 750.
From the Metropolitan Museum website
"This portrait of Night-Shining White, a favorite charger of Emperor Xuanzong (r. 712–56), may be the best-known horse painting in Chinese art. The fiery-tempered animal epitomizes Chinese myths about imported "celestial steeds" that "sweated blood" and were really dragons in disguise. The painting has been attributed to Han Gan, who was known for portraying not only the physical likeness of a horse but also its spirit. Although Han is said to have preferred visits to the stables over the study of earlier paintings of horses, the profile image and the abstraction of the animal's anatomy clearly derive from ancient prototypes."
It is amazing that such an old work, on paper, still survives. What is also interesting is the presence of all the red and sometimes black square, round and oval characters surrounding the piece. These are all seals representing ownership, and they trace the history of who owned the painting through the years. The first one, located just to the left of the calligraphy on the right, dates from the Southern Tang Emperor Li Yu, who reigned from 961-975.
We have traces of history on Mahjong sets as well.  Who hasn't been happy when opening up a set and finding bits of ephemera left by previous owners?  Who knew how close this was to actual traces of ownership we see above?
Sometimes we find typed up instructions: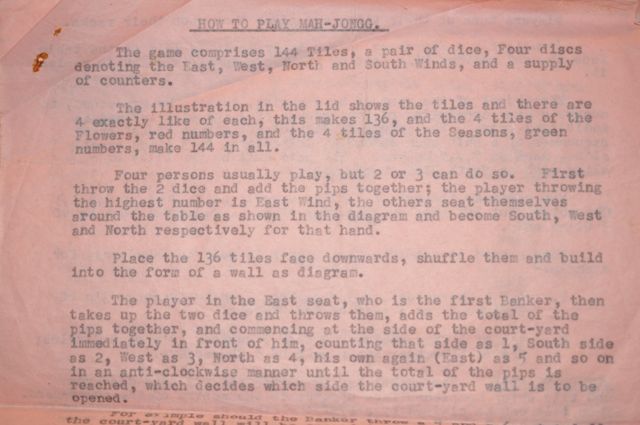 Sometimes we find traces of where the set might have been, in this case on the Blue Funnel Line: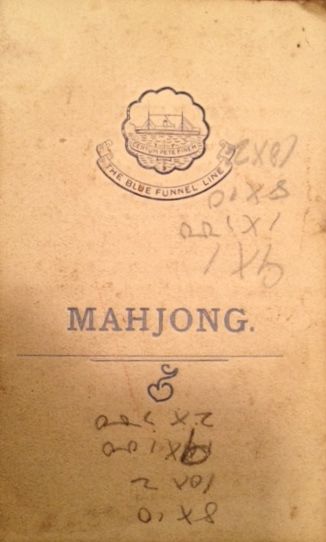 Or what happened to the set along its journey our way:

and this valiant attempt to recreate a lost One Bam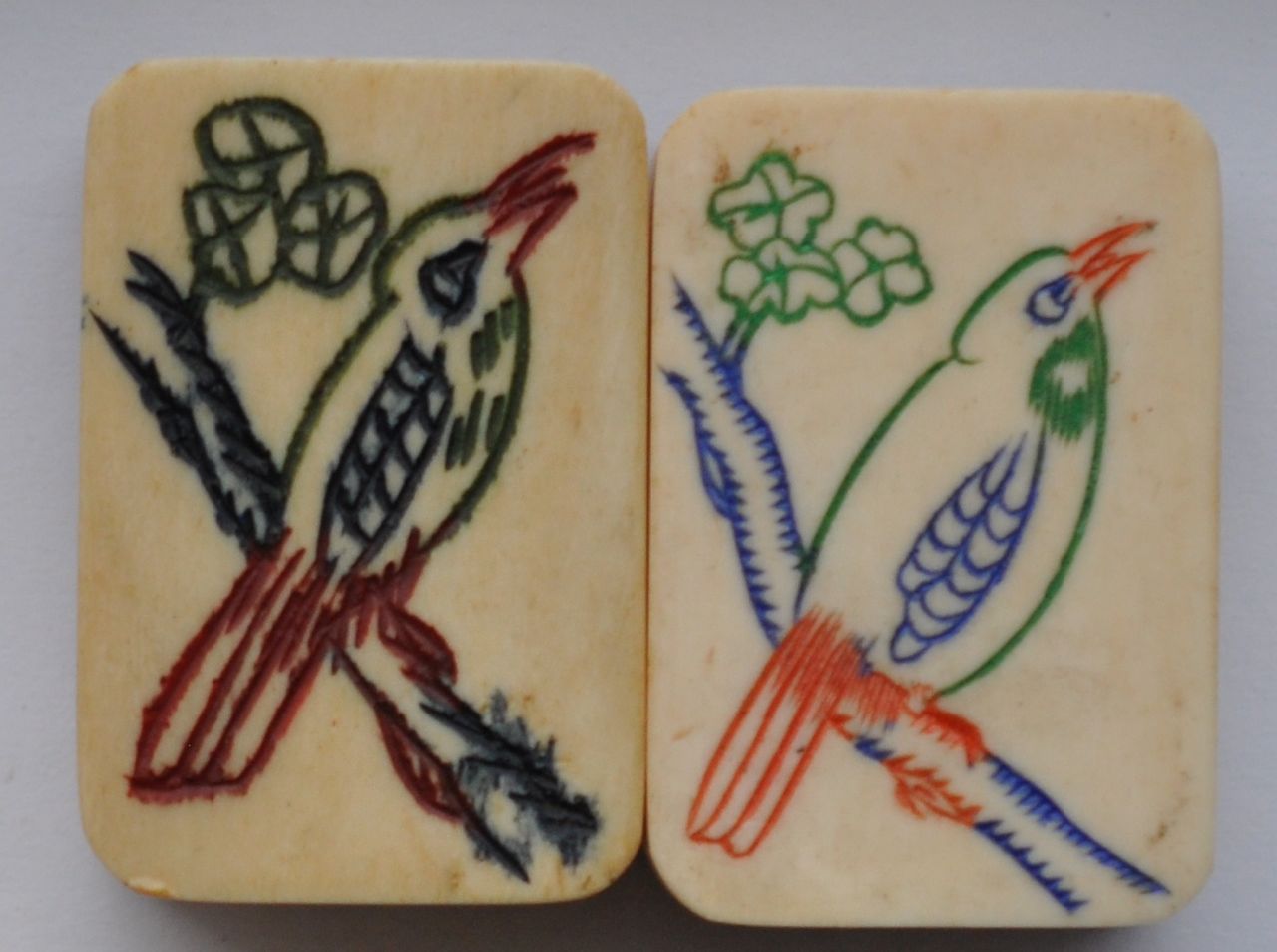 or this round dark 8 Dot substituted for a lost blue floral one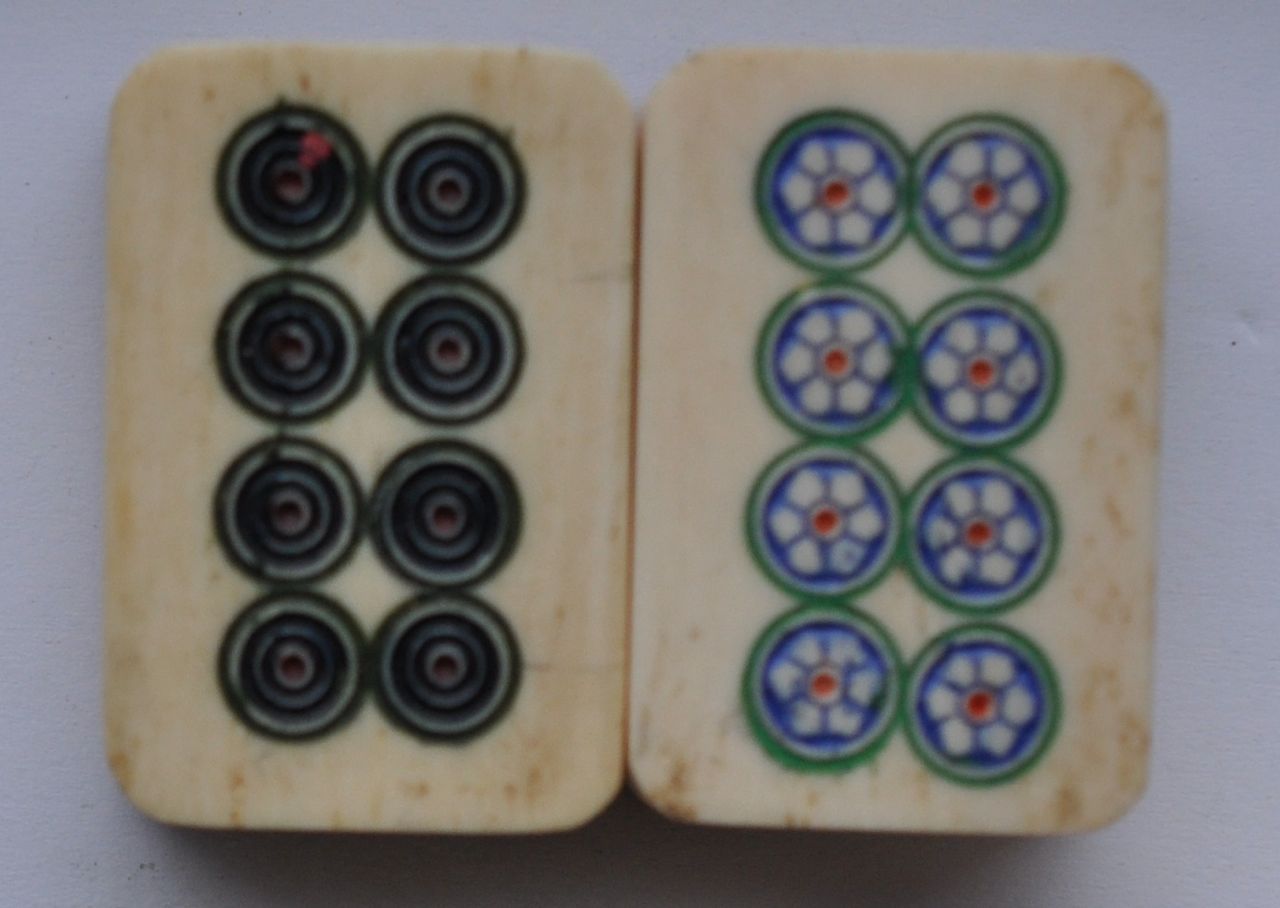 And indications of who found the set for friends: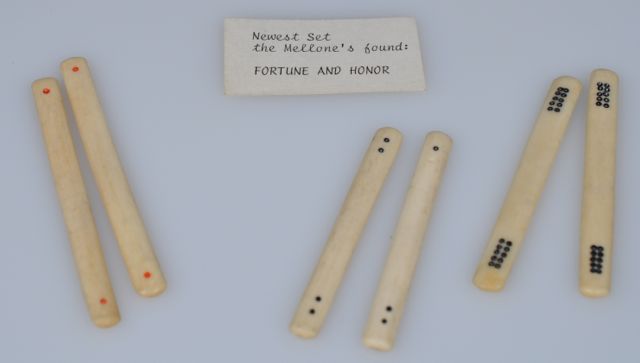 and who owned it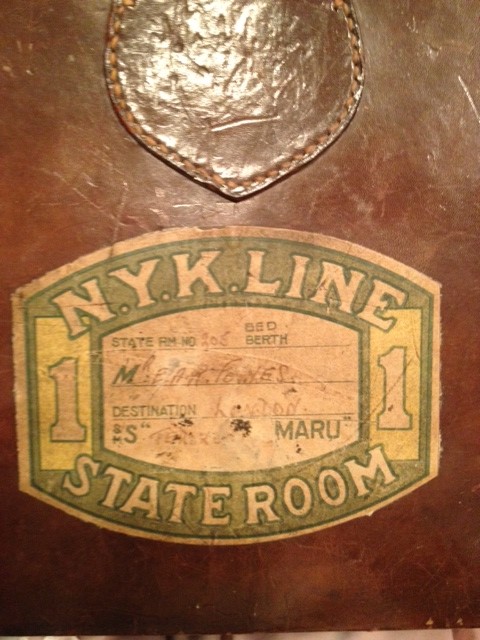 For the Chinese and the antiquities market, provenance is very important. Many treasures were lost through the years for many different reasons, and forgeries exist, including, as some of us think, in the area of Mahjong. So being able to trace ownership is very important.
For those of you who have not clicked on this article about a Chinese vase, which was first posted in March, here is another chance. It just goes to show that ownership papers, even dating from the 1960s, can be very important.
http://www.express.co.uk/news/uk/443251/Old-Chinese-vase-found-on-chest-of-drawers-of-oblivious-owners-sells-for-3m 
Have any of you been delighted when you found traces of previous owners? I have a set I refer to as Jeanne's, because she was the previous owner, and I am happy that I am taking good care of it for her. Of course we also have very strong emotional connections with sets that belonged to our relatives, and playing with them gives us a feeling of connection with them.
Do any of you have similar feelings about sets, either from your own family's collection or from that of a stranger?  BTW, I was going to have the One Bam singing bird recarved, but I am going to keep it just the way it is. It is part of the set's history, and I have decided it's charming.