The Museum of Fine Arts Boston has wonderful scholars rocks that were collected by Richard Rosenblum, a sculptor, which he and his wife Nancy donated to the museum. Here is an excerpt from the catalog introduction to the Exhibit:
"For more than a millennium, the integral relationship between nature and art has been a highly revered belief in Chinese culture, particularly among the literati (scholar-gentlemen). These men had great respect for nature's ability to create its own "works of art." They avidly collected intriguing specimens, ranging from large eroded and calcified rocks that they positioned in their urban gardens to smaller "scholar objects" of wood or stone that they placed in their studios for aesthetic enjoyment."
Here are two rocks from that collection.
This one was found in the Qing  Dynasty, and mounted on this stand. If you look carefully at the stand, you will see it looks quite organic, and ruyi cloud shapes have been added.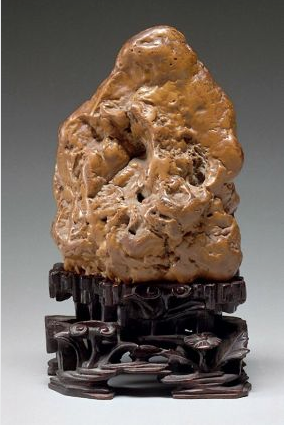 And here is another from that same museum with a similar type of stand, with a stand that looks more like those taihu rocks we looked at the other day.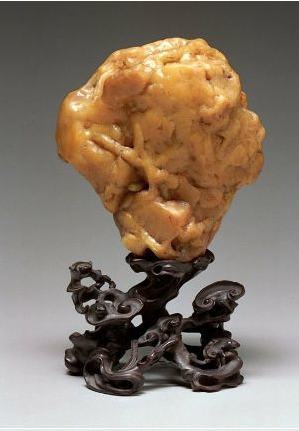 This one also dates from the Qing Dynasty.
Many of you probably remember the following tiles from previous posts, but there is a reason we are looking at them again.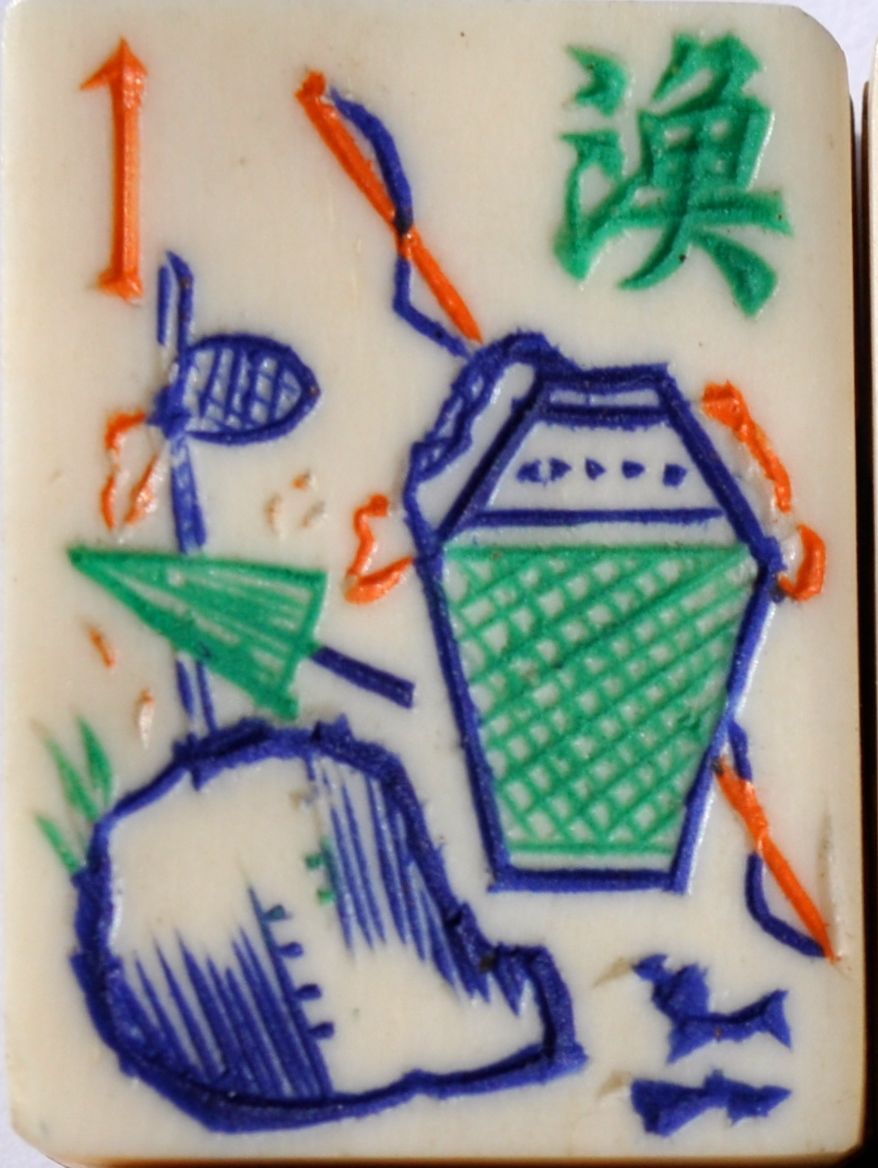 This unusual tile is from a set we've seen before. It represents a fisherman, one of the four important occupations, the others being farmer, wood cutter and scholar. You can see the umbrella the fisherman could use to shield himself from the sun, the basket for fish, and the fishing pole and line. There's also a smooth rock, at the bottom left, about the same size as the basket; given that its size is the same as one of the main objects in the work, the rock obviously has a great deal of importance.

Again we see the need to feature beautiful mostly smooth rocks with flowers.
The other night we happened to come across some fabulous new takes on the classic interest in rocks in Chinese art. The very talented Li Hongbo has produced his own version of beautiful stones, and they are seen here in front of a flower pot, half cut off in this photo because I was not paying attention to the pairing of stones and flower pots!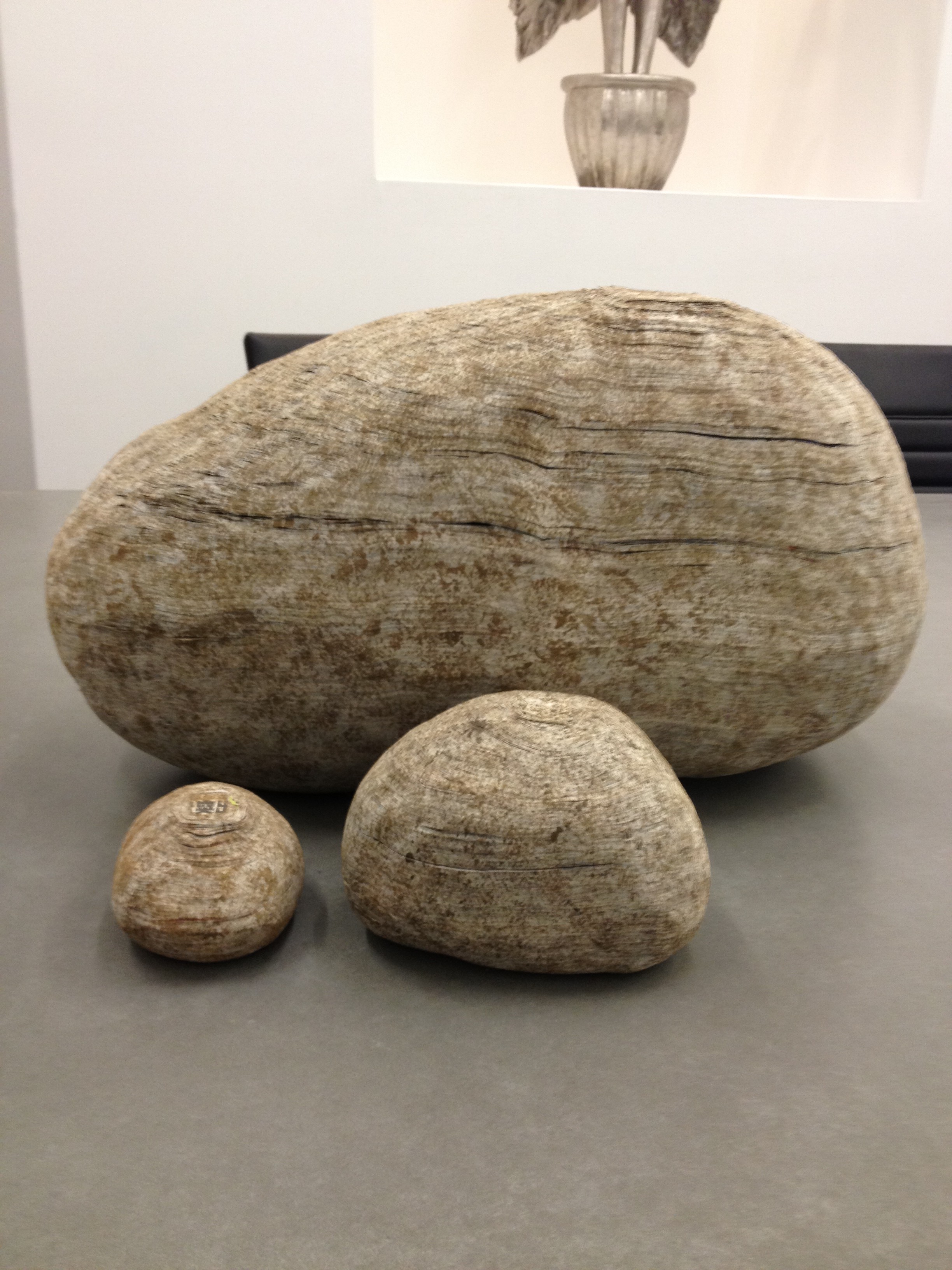 These really look like beautiful smooth stones, don't they?
But there is something else going on: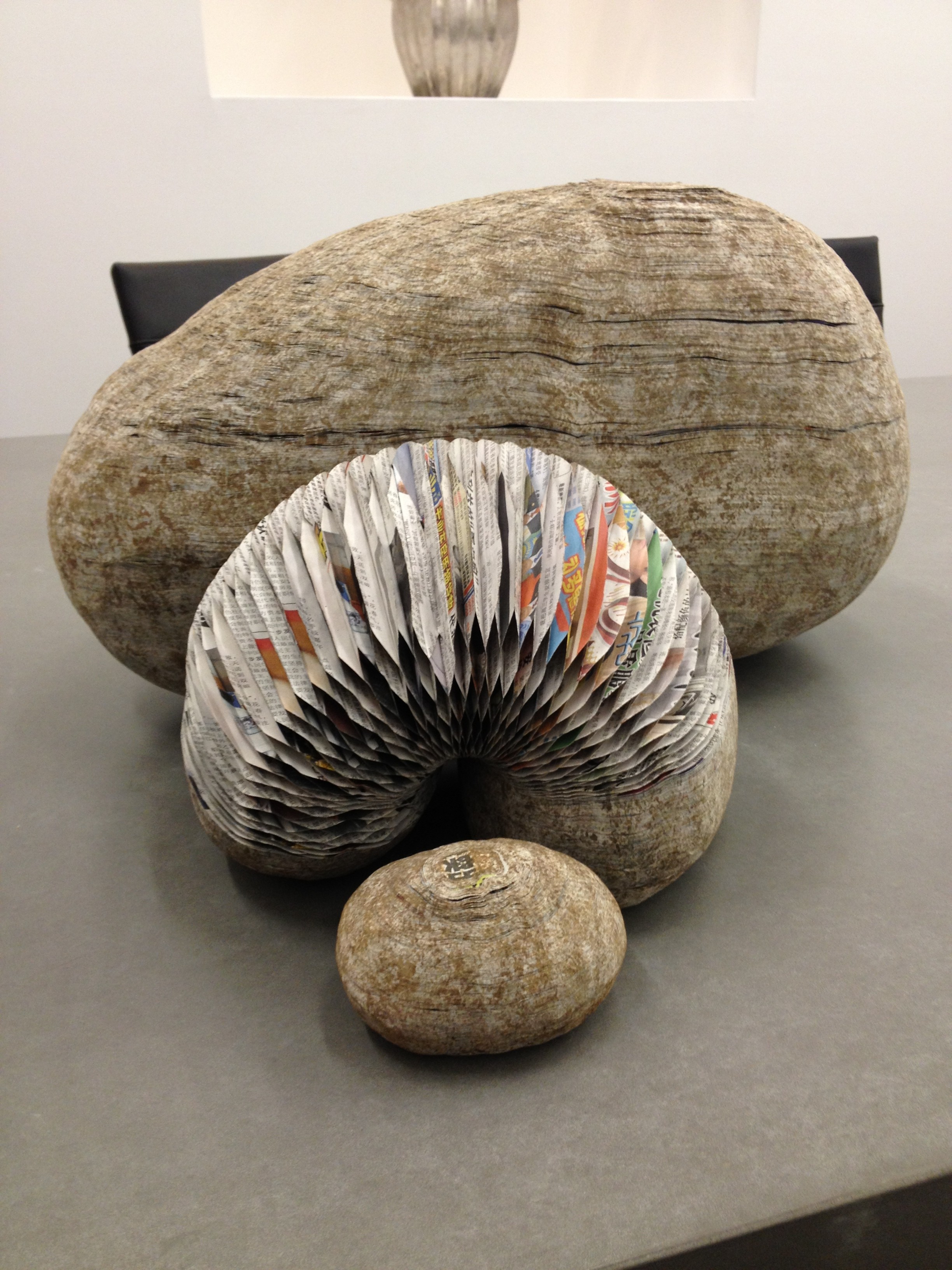 They are actually made of paper!
Christina showed us the inside of the "rocks", made by a process based on Chinese paper lanterns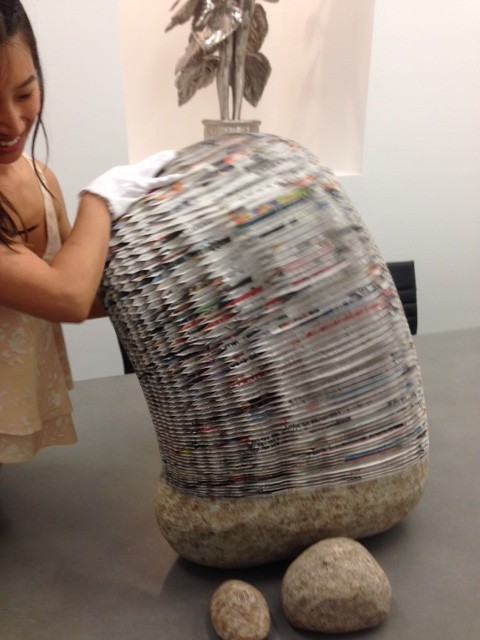 Li Hongbo is truly amazing, and the process he goes through to make these creations is incredible. For a visual treat, please do click on these links:
http://www.businessinsider.com/chinese-artist-paper-classic-sculptures-2014-2
https://www.youtube.com/watch?v=gttdbqX4SWA
Li Hongbo's work can be seen at the Klein Sun Gallery.
http://www.kleinsungallery.com/artist/Li_Hongbo/works/
CURRENTLY SEEKING PHOTOS OF MAHJONG TILES AND BOXES SHOWING CHILDREN AT PLAY AS WELL AS FLAGS/PENNANTS/BANNERS, FOR UPCOMING POSTS. PLEASE EMAIL ME PHOTOS IF YOU WANT TO HAVE THEM FEATURED. IF THERE ARE OTHER SETS YOU THINK MIGHT BE OF INTEREST, PLEASE EMAIL PHOTOS TO ME.
KuanYin@MahjongTreasures.com