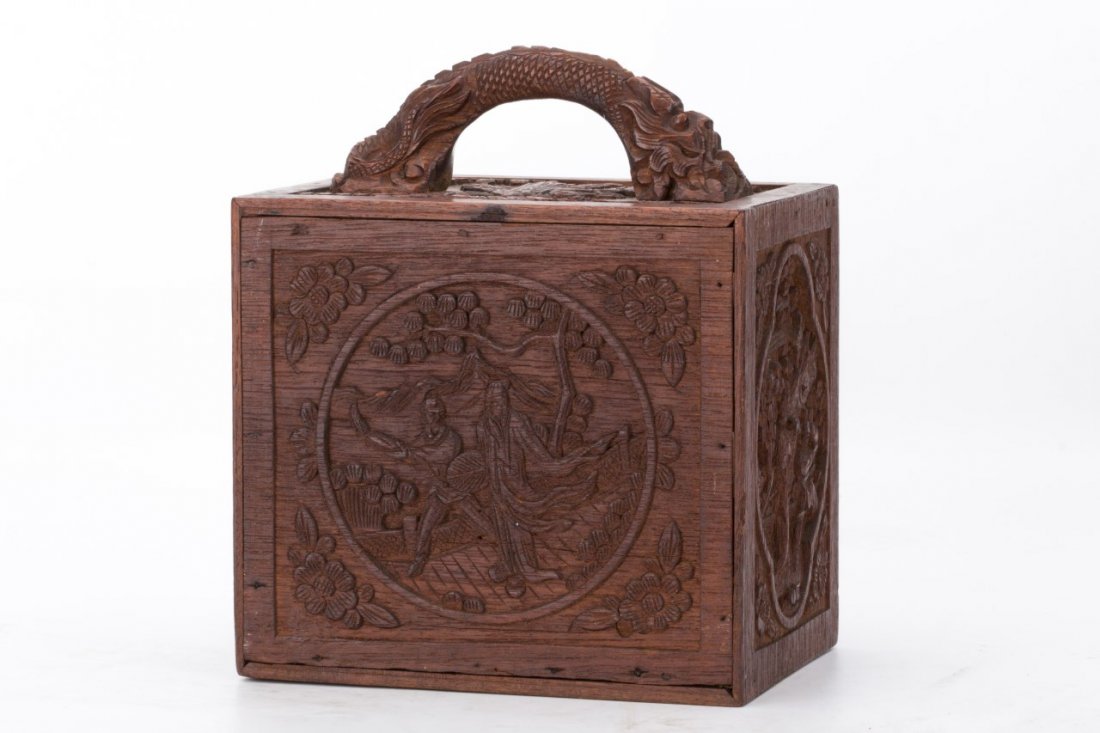 This fabulous dragon box was auctioned off at the China Arts Auction. Look at the magnificent handle. The dragon's face is at one end, and his scaly body is the handle. and the other end has his tail curled back upon his body.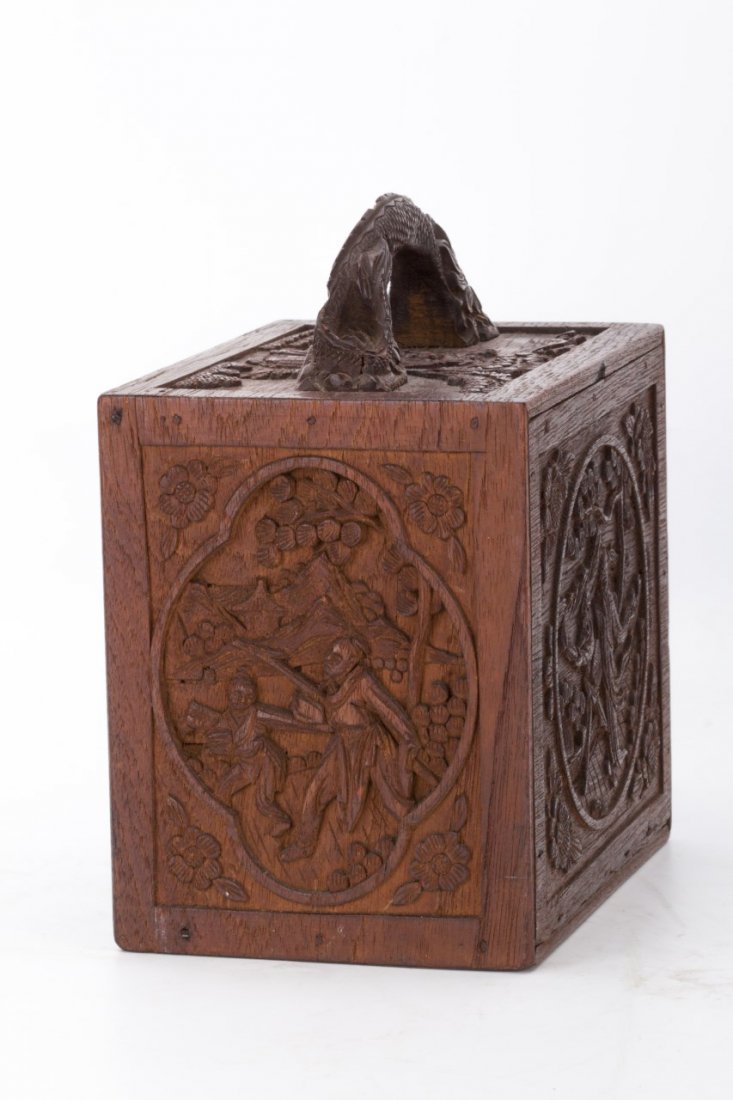 Here you can clearly see the sculptural quality of the handle which was attached to the top of the box, and not carved as one piece as we saw yesterday, and the rest of the deeply carved box.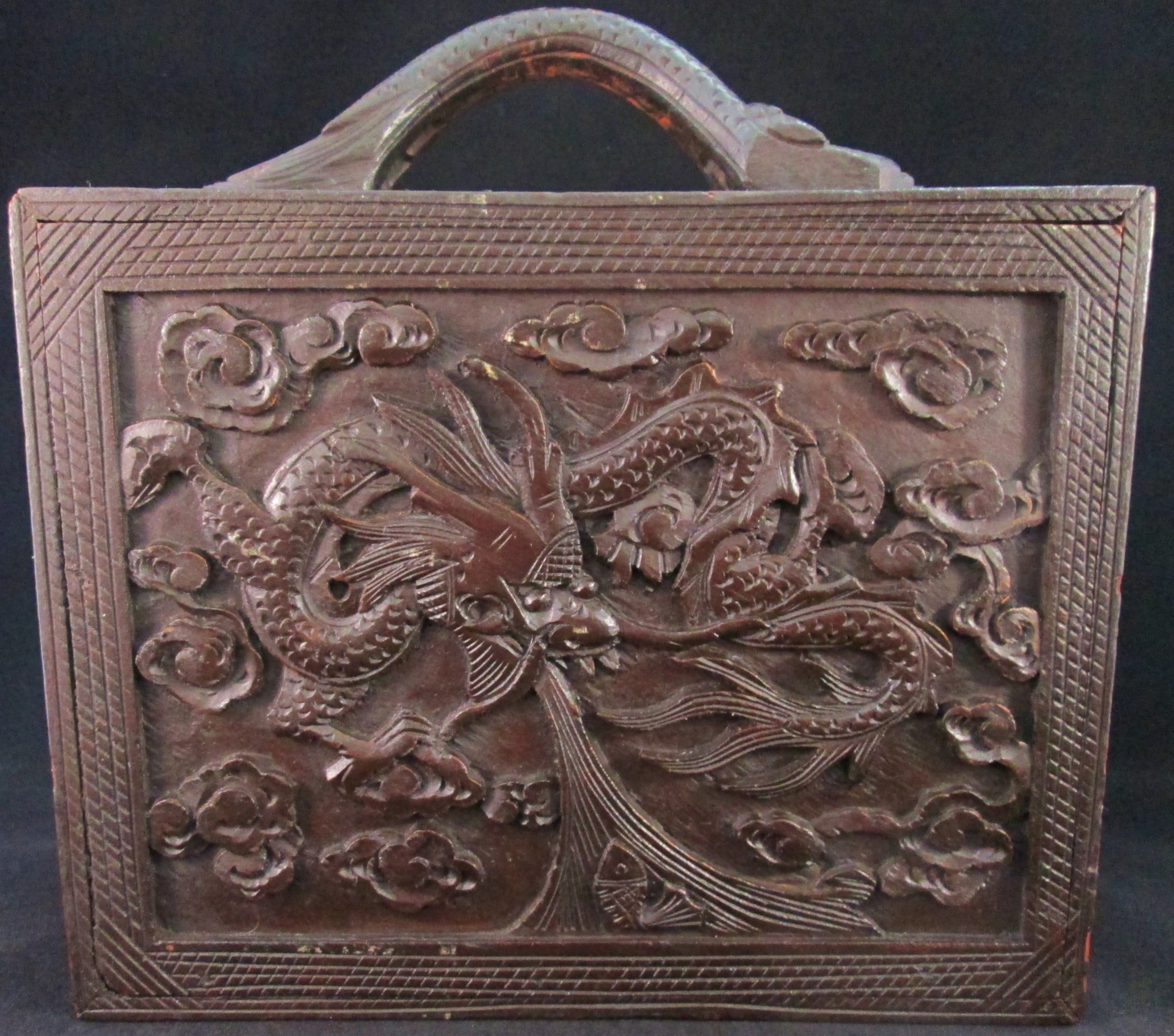 Here's another view of the dragon box we saw the other day, sent to us by a reader. This dragon is fabulous: look at his head with its horns, whiskers, bulging eyes, and open mouth with teeth; his long scaly body with dorsal fin, and his hawklike feet with at least one prominent foot on the left with its claws. It is frolicking in the clouds, as can be seen by curlicued cloud-like shapes surrounding him, but look carefully at the smoke he is breathing, and what do you see? A fish!
"A frequently seen image is of a carp swimming and leaping against the current of a river to reach the spawning grounds.  This refers to the legend (liyutiaolongmen 鲤鱼跳龙门) that a carp which is able to leap over the mythical "Dragon Gate" will become a dragon.  This is an allegory for the persistent effort needed to overcome obstacles."  From Primaltrek
http://primaltrek.com/impliedmeaning.html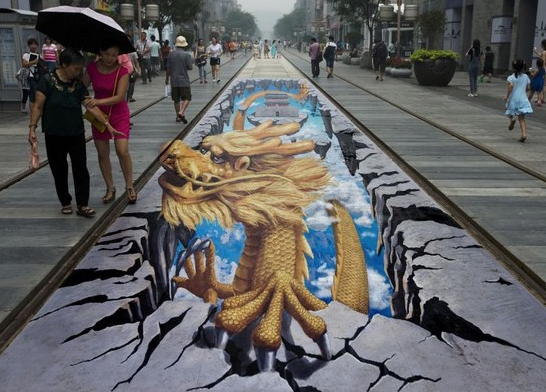 This very sculptural looking dragon looks like he could be on a Mahjong box. This photograph is an indication of the interest the Chinese still have in the dragon as a beloved and important part of their culture. Above is a screen shot somewhat cropped version of a photograph taken by Andy Wong. It's a 3D trompe l'oeil dragon painting or chalk drawing.
Andy Wong's website:
http://www.commercialappeal.com/photos/2013/aug/11/455548/
And we can't leave without one more photograph of Liu Bolin, who is posed in front of the 9 Dragon Wall in Beihai Park in Beijing. From Wikipedia:
"The Nine-Dragon Wall lies north of the Five-Dragon Pavilion. It was built in 1402 and is one of three walls of its kind in China. It is made of glazed bricks of seven-colors. Nine complete dragons playing in the clouds decorate both sides of the wall."
To read more about the park:
http://en.wikipedia.org/wiki/Beihai_Park
The very sculptural dragon is very reminiscent of all the deeply carved dragons we have been seeing on Mahjong boxes this week.
Liu Bolin is represented by Klein Sun Gallery, and we thank them for allowing us to share these photographs with you.
http://www.kleinsungallery.com/artist/Liu_Bolin/works/ 
As always, if you have any comments  please email
kuanyinart@gmail.com