There are two main reasons this website was begun: we hope readers will develop an appreciation for the incredible skill of the men who carved and painted the designs we love so well, and wish the word would spread that these sets are truly special pieces of art. The carvers who made these sets had a great grasp of Chinese art, and used many of the inspirations around them while designing these tiny tiles.
Asia Art Week is going on in New York City this week. Collectors and dealers come from all over the world. There are fabulous pieces of art, ranging from very early pieces that are thousands of years old to Contemporary works. So far, no mahjong sets have put on display, but we're working to change that! You can see some of the pieces of art online on the Asia Week website.
These tiles have been on the website before. They are from the Bone and Ebony set on Michael Stanwick's website. Here are two photos taken of traditional Chinese landscapes that were on view at Sotheby's NY over the weekend. You will quickly see  the inspiration behind these tiny landscapes. The artist was able to capture a very restful scene on each one. The Chinese translates to wishes for longevity extending life.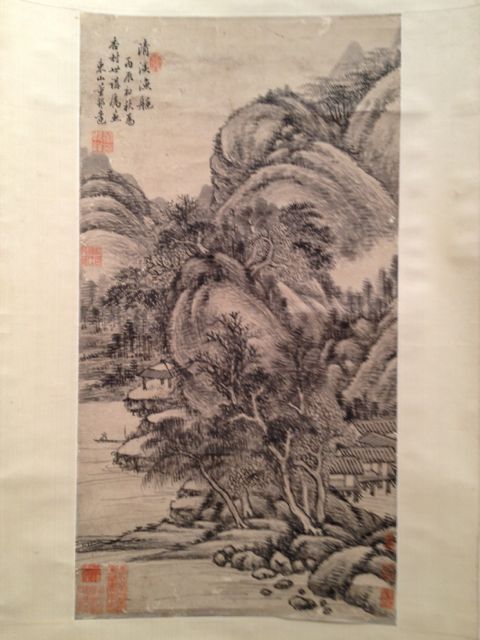 This painting was done by Dong Bangda who lived from 1699 until 1769. It is entitled: Fishing Boat on River. You can see a person in a boat, on the left about a third of the way up from the bottom, trees along the water's edge, rocks and mountains, quite like we see on the Flowers. You can also see a small pavilion on a rock, just above the boat. A pavilion is also found on two of the Flower tiles.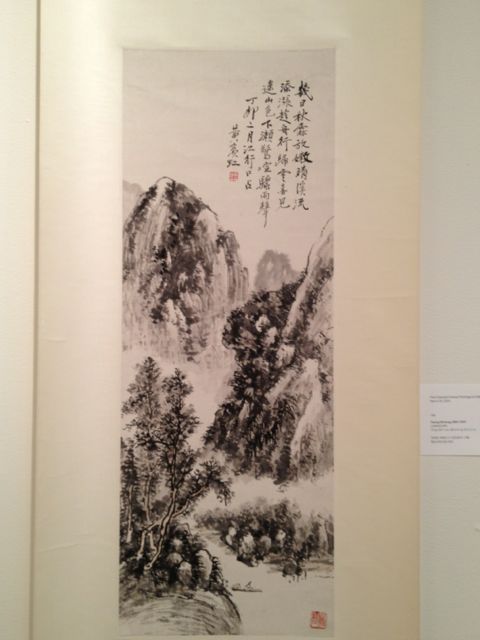 This is a more recent work by Huang Binhong who lived from 1864 until 1955. The work is entitled landscape, but has much in common with the older one above and the Flower tiles. Once again we see a small boat on the water, rocks, mountains and trees.
On both paintings we see Chinese characters, not unlike the Chinese writing that accompanies the numbers on the Flower tiles.