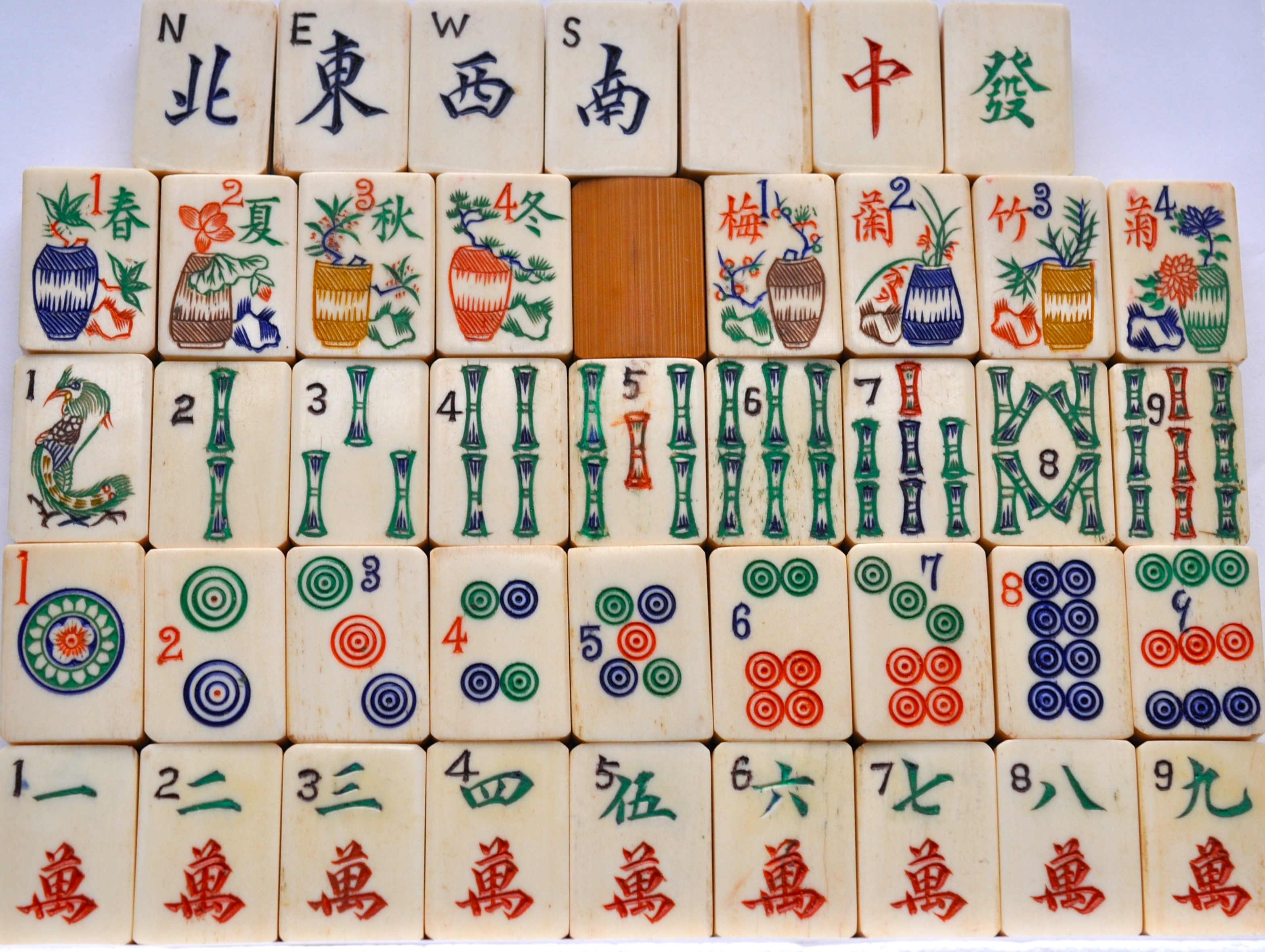 This is a wonderful bone and bamboo Mahjong set, with thick bone tiles. Many of you will remember seeing this Phoenix before.  It probably was the big selling point for the set. Phoenixes were only "seen"in times of good fortune, so they are strongly associated with good luck. This one seems to be quite prideful, with a fabulous strut.
From Wikipedia:
The fenghuang has very positive connotations. It is a symbol of high virtue and grace. The fenghuang also symbolizes the union of yin and yang. Shan Hai Jing's 1st chapter "Nanshang Jing" records each part of fenghuang's body symbolizes a word, the head represents virtue (德), the wing represents duty (義), the back represents propriety (禮), the abdomen says credibility (信) and the chest represents mercy (仁).[4]
In ancient and modern Chinese culture, they can often be found in the decorations for weddings or royalty, along with dragons. This is because the Chinese considered the dragon and phoenix symbolic of blissful relations between husband and wife, another common yin and yang metaphor.
In some traditions it appears in good times but hides during times of trouble, while in other traditions it appeared only to mark the beginning of a new era.[5] In China and Japan it was a symbol of the imperial house, and it represented "fire, the sun, justice, obedience, and fidelity."
http://en.wikipedia.org/wiki/Fenghuang
The other Mahjong Bams have an unusual quality as well, with a cross between the columnar Bams we saw recently and the more rounded ones we often see.
The One Dots have a lovely plum blossom center, set within a floral outer circle. The remaining Dots have a modern circular look. The Craks have the elaborate Wan and green Arabic numbers with greatly decorative flourishes.
Each flower vase is unique, and each has a different plant. It is believed a scholar's rock is next to each vase. Notice how the plants almost interact with the rocks at their side, with echoing designs on each Mahjong tile. The Flowers have Chinese words for seasons on the left and plants on the right.
The phoenix remains an important symbol in China today. At the Cathedral of St John the Divine, a huge sculpture by Xu Bing is going on display.
http://www.stjohndivine.org/programs/art/upcoming-exhibitions