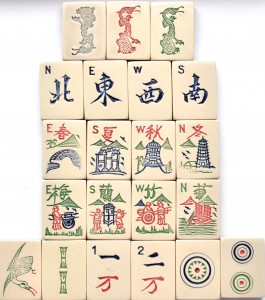 Carol Ann Harper "CHarli" has a writeup about Pung Chow
http://www.charli.org/Mah_Jong/Museum/PungChow/index.htm
The swooping crane One Bam and the flat ended Bams, the simple wans with Arabic numbers, and the Dots going from a stylized flower center to circles within circles appear in these mahjong sets.
The Winds are standard, but the Dragons are highly unusual, and probably were one of the selling points for the game. Who can resist those beautiful creatures?
The Flowers deserve some study, however. They all have the Western letters for the seasons, but the top row has the Chinese words for seasons, whereas the bottom one has the words for the four flowers.

The interest in showing different forms of architecture appears on these tiles as it does in other sets such as those by the Mah-Jongg Sales Company of America, one of Pung Chow's biggest competitors in those early days.
It is clear the images are quite similar, but the Pung Chow designers have a more streamlined approach. The mountains and hills in the background have turned into triangular pyramidal shapes. And don't you love the birds? Look carefully at the South and you will see a bird flying up to the sky, as opposed to all the others flying downward.
And now for the forms of transportation:


You can see how Pung Chow's images are simpler here too, but birds still are included on three of the tiles. (The only bird in the Mah-Jongg version is the duck seen on tile 4 under the tree.) The hills are  triangular here too.
To see another write-up about forms of transportation on this site, click here