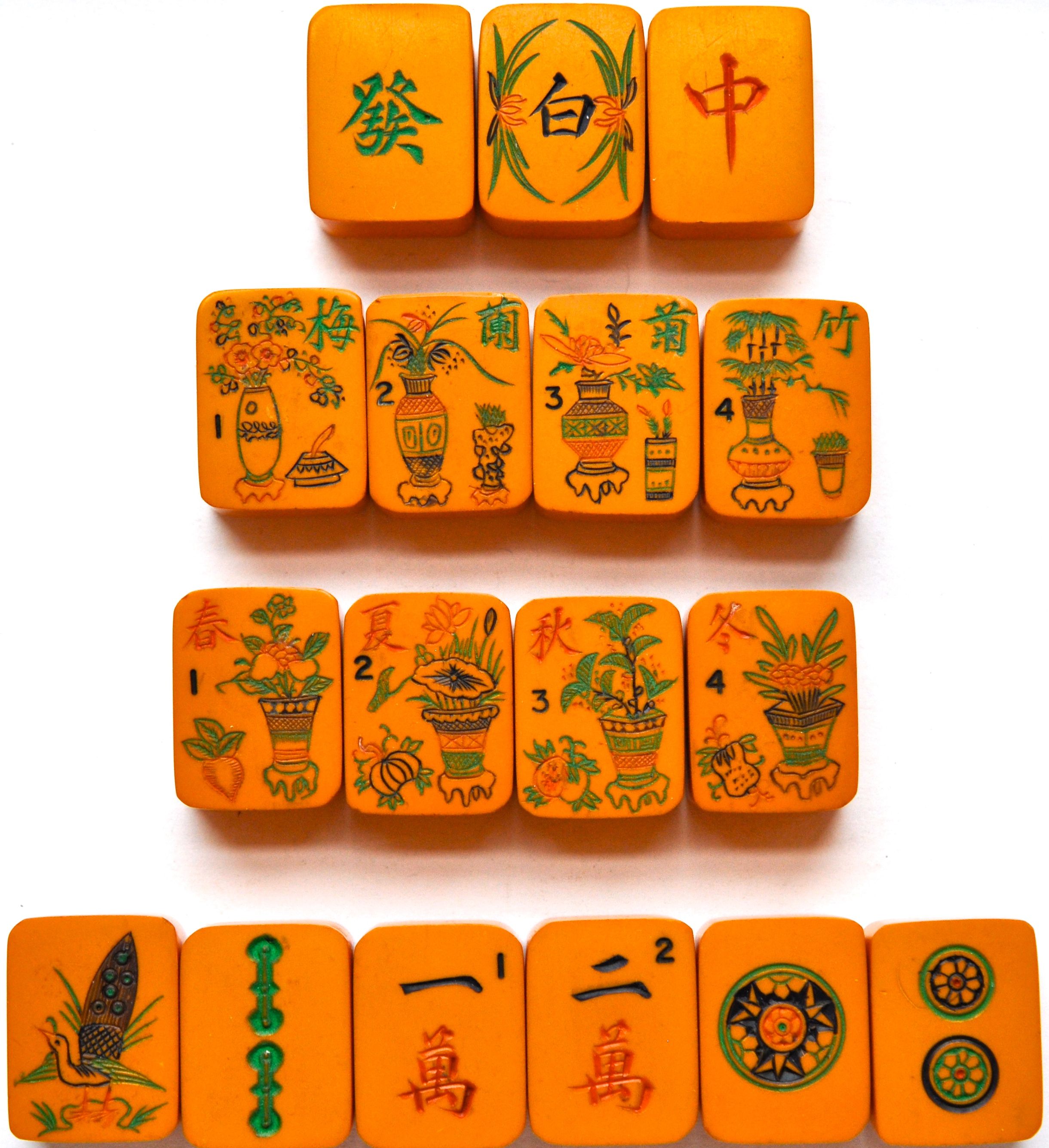 This lovely Mahjong set is unusual in its size: the tiles are only 1" high, whereas others are usually 1 1/4". They are made of Chinese Bakelite, a substance still somewhat mysterious that really is a catch-all phrase for a number of different kinds of plastic, made in sheets and then hand-carved (in this case).
This Mahjong set was made for export, but interestingly, the maker did not feel all tiles need numbers. The only suit where foreigners really need assistance is in the Craks, thus all of those tiles are numbered. (Some sets only start numbers after 3 or 4). The Bams have a peacock One Bam, the other Bams are rounded, the Craks have the elaborate Wans, and the Dots continue their floral center throughout.
The Flowers are the flowers and seasons. Note that every vase has a different pattern and shape, often seen in these vase Flower tiles.
Top row: plum, orchid, chrysanthemum, bamboo
Bottom: spring, summer, fall, winter
The Red and Green Dragons are often seen on these CB sets, but the White is unusual.
The book I wrote with Ann Israel is being published by Tuttle. To see more about it:
www.mahjonggtheartof thegame.com
To order it click here:
http://www.barnesandnoble.com/w/mah-jongg-ann-israel/1118759459?ean=9784805313237
or here from Amazon
http://www.amazon.com/Mah-Jongg-Collectors-Guide-Tiles/dp/4805313234/ref=sr_1_7?ie=UTF8&qid=1414844427&sr=8-7&keywords=mah+jongg