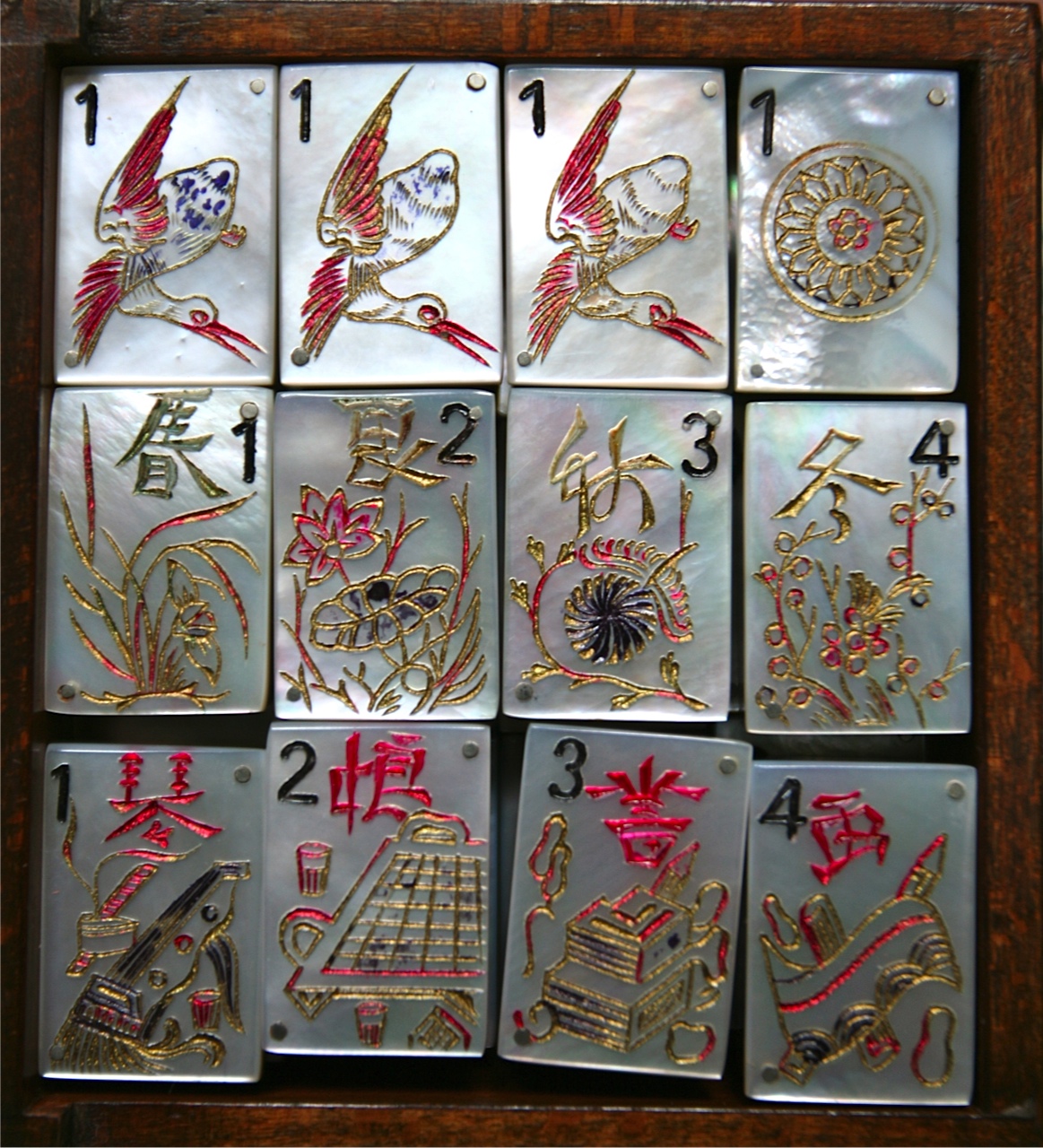 A reader sent this photo along with the translations of the Flower tiles, and it seemed a wonderful way to start off the new year.
These beautiful mother-of-pearl tiles are delicately carved. Because of the nature of the material, the craftsman had to be very skilled and able to work with small delicate strokes. Be sure to really study the photo so that you can see the precision of each bit of carving.
The paint colors are unusual, and perfect for the richness of the mother-of-pearl surface.
Two tiny tacks located diagonally across from each other affix each thin wafer to its tile back.
The Red tiles are Chinese scholarly pursuits
1. Qin -The guqin -a Chinese stringed instrument
2. Qi - Chinese chess
3.Shu- Calligraphy
4.Hua - Painting
Gold tiles the seasons:-
1.Chun -Spring
2. Xia- Summer
3.Qiu- Autumn
4.Dong- Winter
For more information about mother-of-pearl you can click on this wiki link
http://en.wikipedia.org/wiki/Nacre
Beautiful mahjong photographs can be seen in my book, written with Ann Israel:
www.mahjonggtheartofthegame.com
You can order the book here:
http://www.barnesandnoble.com/w/mah-jongg-ann-israel/1118759459?ean=9784805313237
or here
amazon.com/gp/product/4805313234/ref=s9_psimh_gw_p14_d0_i1?pf_rd_m=ATVPDKIKX0DER&pf_rd_s=center-2&pf_rd_r=199S5S6NWB88PX3YJFZY&pf_rd_t=101&pf_rd_p=1688200382&pf_rd_i=507846