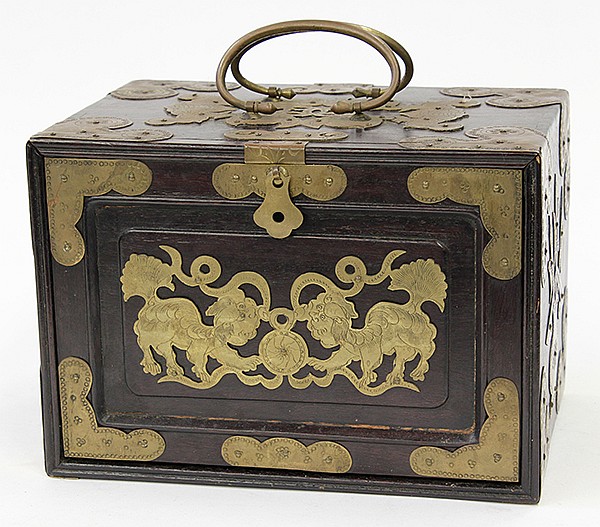 Lions are loved by the Chinese, but of course are not native to that country. According to Wolfram Eberhard, the first lions were probably brought there by emissaries from foreign countries, and these animals were kept in Imperial zoos. They feature prominently in Chinese folklore. When they are depicted in art, they rarely resemble real lions, perhaps because the artist had never seen a real one.
In art, when a pair of lions is seen, usually one is male and the other female; the male lion has an ornamental ball under his paw, and the female a lion cub. Here on this Mahjong box we may be seeing two male lions, with one ornamental ball between them. Lion-Guardians have appeared in art since the 3rd Century. In some representations of a lion with a ball, a lion cub is said to be in the embroidered ball, but others say the ball is actually a large pearl being played with by the lion. Here, because there is one ball and two creatures, the viewer can be reminded of the two dragons who often have a pearl between them, frequently seen in Chinese art.
This front panel lifts up to reveal the drawers behind. The brass is especially well detailed; other boxes have brass trim but usually it is plain or with few embellishments. This box was meant to have a prominent place in the home.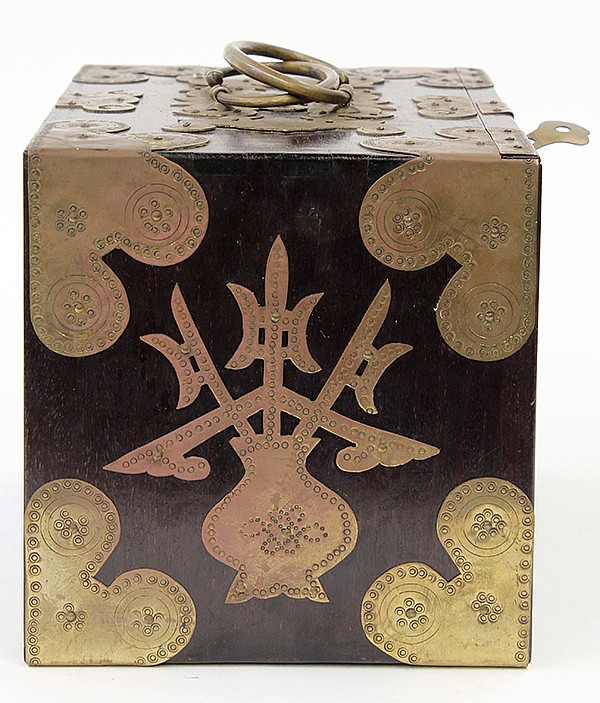 This beautiful set was sold at auction in the summer of 2013.
To see more images from this set, click here.